College Volleyball: Raiders sweep Rainy River following disappointing news
The Central Lakes College Raiders hosted Rainy River Saturday, Oct. 1
We are part of The Trust Project.
BRAINERD — With the disappointing news of the NJCAA forcing the forfeit of six games because of a clerical mistake, the Central Lakes College Raiders responded with a weekend sweep which they completed with a 3-0 win over Rainy River Saturday, Oct. 1.
With the win and a loss from Alexandria Technical & Community College, the Raiders jumped up to the fourth position in the Northern Division which would qualify them for the Region Tournament if the season ended today.
Megan Rinicker led the Raiders with 16 kills, one ace serve, 10 digs and three blocks and Jaime Johnson added 10 kills, two digs and a block
"There was a big emotional reaction because there is a lot of passion," Raiders head coach Jane Peterson said. "And we have put in a lot of work. But it was faster than I thought and the turnaround to what we need to do now. At that time we were 5-4 and below the line where we needed to be above. You can see the teams that are up there and now our goal instead of being at the top is to be above that line. Today, we are above the line and we need to stay there and the only thing we have is control over the games coming up."
The Raiders started Friday, Sept. 30, with a 3-0 sweep of Hibbing and carried that momentum into Saturday's game against Rainy River. A team the Raiders defeated earlier in the season, but was one of the six games they had to forfeit.
The Raiders raced to an 11-8 lead in the first game on two kills and an ace from Rinicker and two aces from Gabbie Enneking. With the game at 16-14, the Raiders went on a five-point run to lead 21-14 and won the first set 25-16 on a combined block from Rinicker and Kalli Papenfuss.
It was complete dominance in Game Two with the Raiders jumping to a 15-1 lead, including a 14-point run with Allison Dornself holding the serve. Dornself tallied an ace during the run with Jenna Pelnis getting two of the points and Jacey Rydberg collecting two points on an ace and a tip. Johnson finished the second game with two kills in a 25-4 win.
Rydberg, one of the Raiders' outside hitters, struggled earlier in the season to get the spike in, but has rebounded of late. She finished with five kills, 10 ace serves and four digs Saturday.
"I have struggled more than our other hitters, but we had a new setter this year and that was a different pace than our setter last year so it was just a little more challenging for me than the other hitters but I think I've got it figured out," Rydberg said.
Rainy River tried a new approach in the third set. They attempted to tip the ball over the Raider block and between the front and back rows. It succeeded in moving them to 9-6 deficit, but CLC responded with a 9-2 run to take an 18-8 lead with an ace from Ellie Sutton. CLC closed the third match at 25-11.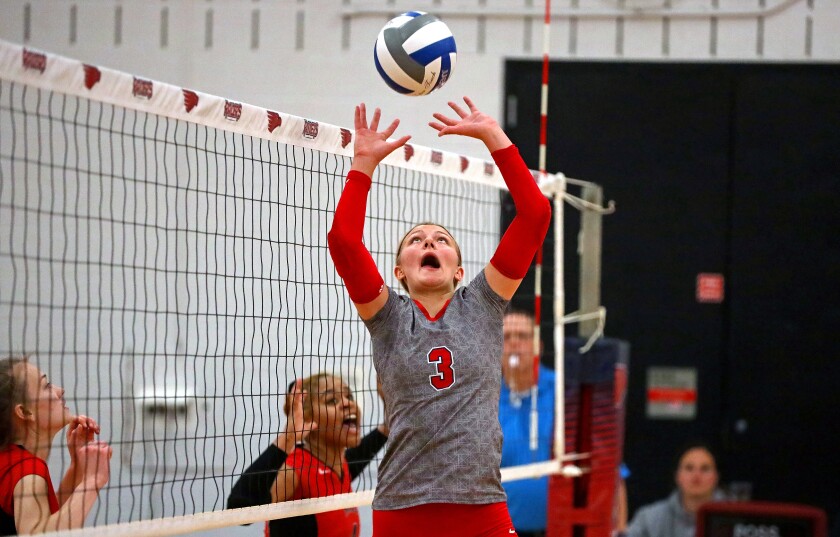 "Tipping is a natural reaction to being blocked and we have seen teams try that against us," Peterson said. "We have good defenders so just hitting it hard doesn't work. And because Jenna (Pelnis) is back covering a lot of territory you can't score on any kind of a deep offspeed hit. You can score by hitting down the line but you can't score hoping she is not going to get it."
With the six-game homestand completed, the Raiders will play their next seven games on the road before finishing out the regular season by hosting Alexandria Oct. 19 with a renewed focus on getting every win they can.
"The hope is that you can use adversity to your advantage instead of letting it bring you down," Peterson said. "It was mentioned pretty quickly that all championship teams have to overcome things. Now clearly we have to win every game and winning 3-0 is important with tiebreakers. We do have a lot of pressure to win every set that we play in the Northern Division."
Rydberg added: "For me personally, I think it was a great challenge for the team. I like to see it as us being the exception and we can do it."
"I think right now we are playing to get better. It doesn't matter who is on the other side of that court. We are focusing on our side and how we can get better."
Kalli Papenfuss 3 kills, 1 block
Allison Dornseif 20 set assists, 5 ace serves, 9 digs
Gabbie Enneking 2 ace serves, 3 digs
Jenna Pelnis 3 ace serves, 16 digs
Megan Rinicker 16 kills, 1 ace serve, 4 blocks
Jacey Rydberg 5 kills, 10 set assists, 4 digs
Jaime Johnson 10 kills, 2 digs, 1 block
Division: CLC 7-4. Overall: CLC 10-10. Next: Central Lakes at Mesabi Range 6:30 p.m. Wednesday, Oct. 5.
The Central Lakes College Raiders traveled to Rochester for a non-divisional game Friday, Dec. 2.
The Central Lakes College Raiders faced Rochester Friday, Dec. 2.