Gophers hockey fantastic four: The legend, Thomas Vanek
Twenty years after he burst onto the Minnesota hockey scene and led the Gophers to their most recent NCAA title, Thomas Vanek has found a comfortable life as a full-time hockey dad in his adopted
We are part of The Trust Project.
STILLWATER, Minn. – The SUV he drives while pulling up to the suburban coffee shop to talk hockey with a reporter is maybe a little higher-end than the minivans that populate every arena parking lot. Other than the luxury automobile, at 38 with a hat on backwards to complement his late summer shorts and flip-flops, Thomas Vanek could be any other hockey dad from the eastern Twin Cities sipping a steaming cup of Starbucks and talking about his three sons' teams which he will help coach this winter.
He still has hints of an accent, which is a product of his childhood in Austria, where he learned German in school, and spoke Czech – his parents' native language – at home. Upon arrival to live and play hockey in the U.S. when he was a teen, Vanek recalls the hours he spont learning and perfecting his English, the hard way.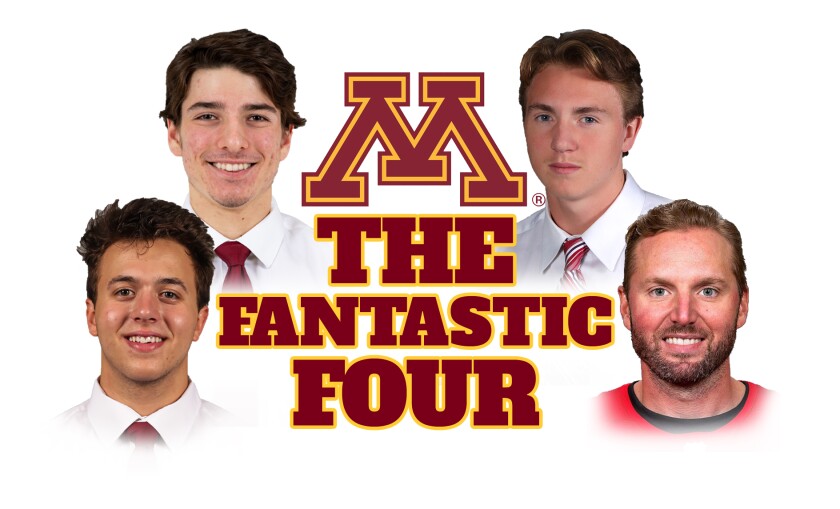 In a four-part preview of the 2022-23 Minnesota Gophers' hockey season, The Rink Live's Jess Myers explores the goalie (Owen Bartoszkiewicz), the captain (Brock Faber), the rookie (Logan Cooley) and the legend of the program (Thomas Vanek).
Wanted for his hockey skills at just 14, he moved to a small town in Alberta and lived with a billet family and took a unique approach to fluency in English.
"In Europe you start English in grade five, but it's the very basic stuff. From late August to about Christmas, those four months were hard because I was an outgoing kid and was always joke," Vanek recalled. "I was pretty nervous and I was pretty quiet for four months. People would ask me questions and I would just say 'sometimes' or 'maybe.' That was pretty much the only words I was comfortable saying."
He found a solution in the family's bookshelf.
"I would have children's books with a German dictionary handy," Vanek said. "Anytime I didn't know a word I would look it up and re-read the same books over and over until I knew the words."
Too young to play major junior hockey in Canada, Vanek instead ended up going to the USHL the next year, to a new team in Sioux Falls, South Dakota. With the Stampede, Vanek met their emerging young coach named Bob Motzko. It was the start of a friendship that has lasted a good portion of both men's lives.
In the early 1980s, at the height of the Cold War between the American-aligned nations of the West and the Soviet-aligned communist nations of Eastern Europe, Vanek's parents lived in the Czech side of what was then Czechoslovakia. Wanting to escape life under the thumb of communist rule, they applied to leave the nation, asking nearly a dozen other countries to take them in.
"They tried to get into Switzerland, Germany, Austria or anywhere they could go," Vanek said. It was 1982. "Finally on the 10th try someone let them into Austria. Two years later, I came along."
Known more for skiing and tennis, hockey is not the first sport one thinks of in Austria. Thomas' father played pro hockey there, and the Vanek boys followed suit, but it was not the year-round pursuit that the modern youth sport has become.
"I didn't play hockey for five or six months out of the year," Vanek said. "In Austria hockey's not as big, so we'd usually start in September and at the end of February, if the local pro team lost out in the playoffs, they took the ice out."
Living in South Dakota, Vanek got more comfortable with the North American version of the game, even while sometimes playing against kids two or three years older.
"I was so fortunate that I got him when he was 15 years old and I was coaching in the USHL," Motzko said. "He was really a special talent, and you could see that at 15. He was a boy, playing with men. But he was a man playing against boys when it came to talent."
With his billet family, they would watch college hockey on TV. The teams they saw most often were the Gophers and North Dakota. By his junior year of high school, Vanek figured that he had gotten a recruiting brochure from every school in the country, with one exception.
"I think the one pamphlet I never got was from the U of M. I remember getting a lot of North Dakota stuff and a lot of other schools but I don't think I got a Gopher pamphlet until my senior year," Vanek said, noting a big change after his junior year, when Motzko left Sioux Falls to become a Gophers assistant coach under Don Lucia. "Bob went there, and then he became my recruiter. That was the one school I would watch in Sioux Falls …Then Bob ends up there and I got more than a pamphlet, I got my old head coach recruiting me."
Vanek didn't go home to Austria after his high school graduation. He went right to Minneapolis and spent the summer before his Gophers freshman season getting to know the players who had just won the 2002 NCAA title. He skated with them, worked out with them, lived with them and got his first taste of life in college. So it maybe should not have been a surprise when this rookie from Europe led the defending national champions offensively with 31 goals as a freshman.
"We didn't have the type of culture where freshmen are just supposed to come in and be quiet," former Gophers defenseman Keith Ballard said. "It was, 'I don't care what class you're in. You're a huge part of our team.' And knowing Thomas from having played against them in the USHL, I know how good he was and other guys who had played against him knew how good he was."
Fans quickly learned that the bigger the game, the bigger the impact Vanek would have. That was on display in the WCHA tournament, and again in the NCAA regional round, when the Gophers blasted past Mercyhurst and Ferris State, returning to the Frozen Four.
In the semifinals in Buffalo, they trailed Michigan by two goals, but there was a quiet confidence on the Gophers bench and in the locker room.
"We worked hard in practice, but games were fun for us," Vanek said. "Maybe I was pretty ignorant back then, but I looked at our team and I thought there's no way we can lose."
They tied the game, took it to overtime, and then Vanek threw a kind of wraparound shot on the net from a ridiculous angle, and it went in, setting up a title game matchup with New Hampshire. On a Saturday night in Buffalo, the favored Gophers scored first, but UNH forged a tie. Thanks to Minnesota's rookie wunderkind, the deadlock didn't last.
"When big games were on the line, he was at his best," Motzko said. "In the championship game with New Hampshire, the game was tight until he said, 'It's not going to be tight anymore.'"
In the second period, Vanek caught a pass in the neutral zone, skated through seemingly the entire state of New Hampshire, then waited until the Wildcats goalie was way, way out of position and deposited the eventual game-winner into a mostly empty net. Two decades later, it is a moment etched in the memory of many Gophers fans, and a nightmare for those who play defense.
"Thomas always had a plan. He always thought way ahead of what was going on. And he wasn't afraid to make the play that you do in June when you're screwing around with your buddies, so you were always on your toes," said Ballard, who had to play against Vanek in the USHL and later in the NHL. "His goal against UNH kind of sums all of that stuff up. On the biggest stage, in the national championship game as a freshman, he comes down the left side, waits, waits, waits, cuts to the middle, the D are panicking and they're sliding and he just waits, and he's got a four by six yawning empty net to shoot at."
When the Gophers skated off the ice with a 5-1 win and another NCAA title, the announcement of Vanek as the tournament's MVP was all but a foregone conclusion.
Playing for big paychecks
After his heroics in Buffalo, the NHL's Sabres must have figured they would capitalize on Vanek's success in their rink. In the 2003 NHL Draft, they plucked the big Austrian with the fifth-overall pick and asked him to sign right away.
Not feeling ready to make that jump, Vanek played another year with the Gophers. Injured for part of his sophomore campaign, his numbers were lower, and the team's season ended a game shy of the Frozen Four this time. He accepted Buffalo's offer in the summer of 2004, not long before the NHL locked players out and canceled their entire season, meaning he would spend the next winter in Rochester, New York, playing minor league hockey. He admits missing college and his Gophers teammates, but said that the intro to pro hockey was a blast.
"As much as I missed the Gophers and the school, I felt ready, and in Rochester we had Ryan Miller and a lot of guys like that who were 21, 22, 23, 24 and it almost felt like an older college team," he said. "For me it was a great step. Nobody worried about getting called up, you just worried about learning how to be a pro, learning how to live on your own for the first time, with some money. It was great."
When the NHL resumed play, Vanek went right to the Sabres and resumed scoring, putting up 40 goals or more twice in his first four seasons at the game's highest level. The Sabres rewarded their budding superstar accordingly, signing him to a seven-year deal that paid more than $7 million annually in 2007. But as much as he loved Buffalo, with a girlfriend – and now, wife – from Stillwater and a son that came along about the same time as that big contract, Minnesota was always Vanek's summer home.
Vanek had stints with Montreal and the New York Islanders in the 2013-14 season, then in the summer of 2014 found what many viewed as a "homecoming" and signed a three-year deal with the Minnesota Wild which paid $6.5 million a year. There were some good moments while Vanek called Xcel Energy Center his office, and those red and green jerseys with number 26 on the back were popular in Minnesota, but in the end, things didn't work out.
Shortly before he was fired in February 2016, Wild coach Mike Yeo had made Vanek a healthy scratch for a few games, and there was a perception among some that the big, talented forward sometimes adopted a Randy Moss-style "play when I want to play" attitude. His defenders, including coaches like Motzko and Lucia, have said that Vanek's natural ability and seeming ease with which he puts the puck in the net could lead some to think he was "conserving energy" on the rink, but that perception was never reality.
At the end of year two in Minnesota, the Wild bought out the year that remained on Vanek's contract and he signed a one-year free agent pact with Detroit.
The last three years of Vanek's pro career were spent bouncing between four different teams – including two stints with the Red Wings – as his stubborn ability to score goals made him a sought-after commodity at trade deadline time. Vanek said the multiple moves happened in part because after his experience with the Wild, where he felt locked into a long-term deal in a situation where he wasn't happy, he insisted on signing only one-year contracts at every stop.
In 2019, he came "home" to his adopted Minnesota for good, where he and Ashley raise their family. Having earned close to $80 million in his career, it is a comfortable life, allowing Thomas the time to coach his sons, play golf, work out, and keep tabs on his fellow national champion friends from 20 years ago.
He will help former Wild player Greg Zanon coach Stillwater High School this winter, and said he follows Motzko's Gophers and gets to 3M Arena at Mariucci as often as he can, as the adjustment to retired life continues.
"I got into coaching so my later afternoons and nights were always covered. For me it was about finding something in the morning to keep me busy. I didn't do much early on, just played golf in the morning if it was nice and pretty much just sat around. I was getting too lazy so I started working out and it felt good. This is year three now, so I've got a pretty good cycle."
Motzko jokingly calls Vanek his son since they have known each other since the player was a teen. Put aside the championship and the millions and the NHL career, and the coach sees in Vanek a lesson about finding your happy place in life.
"What I'm most proud of is just to watch how he married a girl from the University of Minnesota, he's just a great dad and a great husband," Motzko said. "He takes a lot of pride in living in Minnesota, so just another one of those guys that we brought to the state that stayed."