Motorsports: Brad Harder is crowned King of the Track at BIR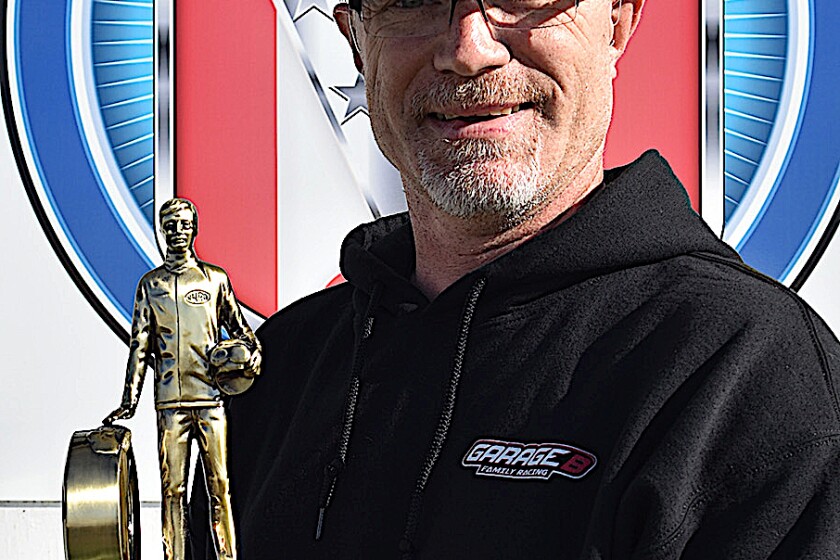 Brad Harder knows what it's like to get to the finals of the King of the Track race at Brainerd International Raceway, but he never experienced the thrill of winning the crown. Until Saturday.
Harder is now BIR's 2019 King of the Track, after beating Ryan Athman in the finals. Harder may be the first racer from the Pro Bike/Sled class to win the title.
Athman and Harder nearly had to wait until Sunday to decide the winner. Rain on Saturday morning delayed the start of racing until noon. And with extra drag racers competing last weekend, the sun was setting when they lined up against each other on the starting line as the final pair of the day. Riding a 1998 Kawasaki ZX9R, Harder had a tinted shield on his helmet and was looking through a tinted windshield on his bike, making the track awfully dark for someone crossed the finish line at 140.31 mph.
"I was more concerned about staying in my lane (then devising a strategy for the race)," Harder said. Harder and Athman were off the starting line at the same time but Harder eeked out the win with a time of 9.331 seconds.
"After I saw the win lights come on, I wanted to jump off the bike and celebrate but I tried to contain myself instead," he said. "I was really excited, though."
BIR's annual King of the Track race pits the top two racers in each class of the Bracket Drag Racing Series' point standings. There were two racers from seven classes that were paired up for a run-off to determine the best of the best.
The King of the Track race was part of the fifth of seven weekends for the Bracket Drag Racing Series. With the Central Roadracing Association on the road course for its third of five race weekends for the year, the drag strip was super busy with more than 300 cars, including 51 Stock/Super Stock cars that were competing for big prize money as part of the Midwest Class Racers' 6th Annual Paul Bunyan Classic. Line Performance put up $3,000 on Saturday and Sunday, with $2,000 going to the winner and $1,000 to the runner up each day.
The race attracted drivers from as far away as Washington state, Idaho and Nebraska, as well as every corner of Minnesota. On Saturday, Michael Mans drove his 2000 Firebird to a finals win over Ben Line, with a winning time of 8.861 seconds and 141.37 mph. Sunday was pay day for Scott Dugdale, who drove his '67 Chevelle to a finals win over Jamey Picht by posting a time of 11.353 seconds at 115.50 mph.
Grant Pesola and Keith Larson may have gotten lost in the shuffle with all the special races going on, but the two were dual winners this weekend, sweeping the Sportsman and Street Trophy classes, respectively.
Driving a 1997 Dodge Ram pickup, Pesola won 10 straight races last weekend, beating Jerry Hieb in Saturday's Sportsman finals and disposing of Joe Moriarty Sr. in Sunday's finals. All three drivers are now in a battle at the top of the point standings with two weekends left.
Larson and his '72 Camaro were unbeatable as well. He knocked off Jazper Wiebusch in Saturday's Street Trophy finals and then benefitted from Tyler Kyllonen's starting-line foul in Sunday's finals. Larson's on top of the point standings and leading second-place Weibusch.
The next race in the Bracket series is Sept. 6-8.
Super Pro
Finals: Joe Howell of Big Lake def. Daniel Flewilling of Thunder Bay, Ontario
Pro ET
Finals: Matt Arnold of West Fargo, N.D. def. Cole Casteel of Crosby
Sportsman
Finals: Grant Pesola of Nashwauk def. Jerry Heib of Maple Grove
Stock/Super Stock
Finals: Michael Mans of Rogers def. Ben Line of International Falls
Pro Bike/Sled
Finals: Jami Neyssen of Foley def. Brad Harder of Waconia
Comp Trophy
Finals: Ryan Athman of St. Cloud def. John Takacs of Thunder Bay, Ontario
Street Trophy
Finals: Keith Larson of Brainerd def. Jazper Wiebusch of Ham Lake
Junior Dragster Advanced
Finals: Bryn Kahlhamer of Inver Grove Heights def. Riley Luberda of Foley
Junior Dragster Intermediate
Finals: Blake Neyssen of Foley def. Aspen Meagher of Hudson, Wis.
Junior Dragster Novice
Finals: Cason Entwistle of Hilman def. Lily Covington of Merrifield
Super Pro
Finals: Steve Brings of Howard Lake def. Ronnie Luberda of Foley
Pro ET
Finals: Tim Lowe of Chisago City def. Tony Leonard of Inver Grove Heights
Sportsman
Finals: Grant Pesola of Nashwauk def. Joe Moriarty of Ham Lake
Stock/Super Stock
Finals: Scott Dugdale of Stacy def. Jamey Picht of Oakdale
Pro Bike/Sled
Finals: Billy Devries of Brainerd def. Bruce Sampson of Forest Lake
Comp Trophy
Finals: Paul Songas of Stacy def. Brad Haugaard of Ham Lake
Street Trophy
Finals: Keith Larson of Brainerd def. Tyler Kyllonen of St. Francis
Junior Dragster Advanced
Finals: Owen Drake of Zimmerman def. Dylan Dancer of Foley
Junior Dragster Intermediate
Finals: Brody Thompson of Nowthen def. Davis Godwin of Pengilly
Junior Dragster Novice
Finals: Lily Covington of Merrifield def. Cason Entwistle of Hilman