Minnesota group goes national in effort to get veterans, police officers outdoors
Hometown Heroes Outdoors has offered nearly 2,200 outdoor excursions — all of them free — to more than 3,000 people in 26 states.
We are part of The Trust Project.
DULUTH — Les Albert talks about the nightmares now mostly in the past tense.
Albert served in the Marines and was stationed overseas for a bit, but didn't see combat. He says his post-traumatic stress disorder comes from his work as a deputy sheriff in Florida and a firefighter in Illinois.
"There were just some experiences that wouldn't go away," he said, describing an "overwhelming sense of anxiety" even after leaving both professions.
"I constantly worry that something tragic may happen to my family if I am not there to look over and protect them. This excessive anxiety often makes me feel on edge and irritable, causing me to snap at my loved ones without reason," Albert explained in a recent letter. "It is not uncommon for me to struggle with falling asleep. I fear that if I fall asleep, I will have nightmares or night terrors. My breaking point was when my wife, who is my rock, tried waking me from my nightmares several times. When I woke up, I didn't even recognize her."
Since it started in 2019, Recovery Alliance Duluth has helped hundreds of people through recovery via peer support and other services.
Albert, who lives in Gilbert, would get out of bed after the nightmares and then spend hours on the internet, hoping it would make him sleepy, usually watching videos about police work or military experiences.
"You get out of the military or law enforcement or the fire service and not only do you have these traumatic experiences you remember, but then you miss the camaraderie. You depend on each other to stay alive and, suddenly, that's all gone when you get out," Albert told the News Tribune. "I found I really missed being around other people like me who had the same experiences, good and bad."
Then one late night, Albert came across a video of a military veteran catching a big sturgeon through the ice. An avid outdoorsman who moved from Illinois to Minnesota to be closer to better fishing and hunting, Albert wanted to know more about this cool fishing trip this veteran was having.
And that's how he found Hometown Heroes Outdoors.
Albert, whose day job is driving trucks for U.S. Steel's Minntac taconite operations in Mountain Iron, went on his first trip with the group in 2019. Since then, he's attended several small and large group fishing and hunting trips across the region. He's planning a Hometown Heroes Outdoors grouse hunting trip in October to the Gunflint Trail, maybe two.
"It can be one or two of us on a hunting trip … or a big group. We had 100 people on Lake of the Woods ice fishing last winter. We just had a bunch of people on Mille Lacs last weekend fishing," he said.
Albert, 49, is now one of 20 Minnesota field staff volunteers for Hometown Heroes Outdoors. He's heading the group's northern Minnesota operations. That includes planning a major fundraiser Saturday, Sept. 24, at the Sawmill in Virginia, the group's first in northern Minnesota. Albert also has been trained to deal with crisis calls from veterans who contact the group needing more than a fishing trip.
"Not only do I get to help myself, but I have the honor of helping others that may struggle with similar issues that I have experienced," Albert noted. "It truly is therapy as soon as a group gets together at one of the events. It's like being a teacher of a second grade class. You can't make them be quiet, they never stop talking with each other, and that is a good thing."
Hometown Heroes Outdoors sprouted in 2017 in Stillwater, Minnesota, as a 401(c)3 nonprofit after several of its founders walked away from another veterans support organization that they felt wasn't fulfilling its mission properly. Since then Hometown Heroes Outdoors has offered nearly 2,200 outdoor excursions — all of them free — to more than 3,000 people in 26 states, including Wisconsin, North Dakota and Iowa.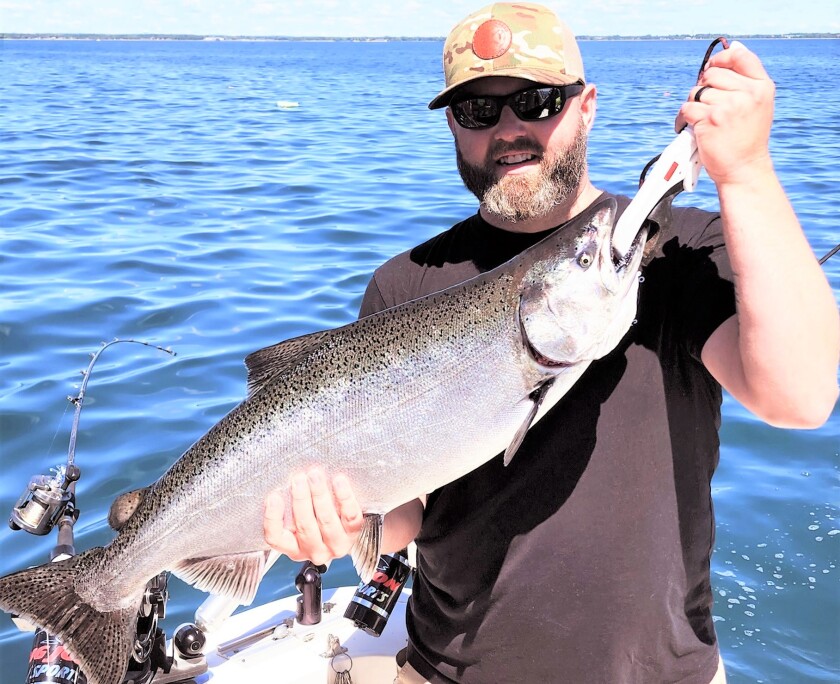 "We're going to top 1,200 people on trips this year, probably 1,500," said Chris Tetrault, a co-founder and vice president of the organization.
In Minnesota, the trips have included horseback riding, ice fishing, summer fishing, bird hunting and more. In North Dakota, the chapter took veterans out goose hunting and fishing for big catfish. The Colorado chapter went kayaking recently on the Colorado River. In Wisconsin, it was walleye fishing off Sturgeon Bay.
Wadena County is among a number of area counties focused on loosening the grip mental illness has on the area.
It's not the first effort to get veterans outdoors. Charter captains on Lake Superior and fishing guides on Lake Vermilion have held day events for veterans for years. And there are summer trips to veteran-themed resorts in Minnesota, too. But Hometown Heroes Outdoors wants to be statewide, nationwide and yearlong.
The group depends on donations, fundraisers and in-kind contributions to cover the costs of the trips.
"Nobody makes a dime off Hometown Heroes Outdoors. It's all volunteer work. All the money we raise goes back into trips for veterans," said Tetrault, who has a full-time job and a family of 9 in addition to his position with Hometown Heroes Outdoors.
Tetrault was born in Texas but has deep roots in Minnesota and North Dakota. At age 16, he became an Eagle Scout and soon after joined the Minnesota Army National Guard. He deployed to Bosnia in 2003 and Iraq in 2005. He's now a Minnesota conservation officer stationed in Maplewood, just east of St. Paul, along the St. Croix River.
"Personally, I don't have the serious issues a lot of the people we serve are dealing with. ... But I know enough who do and I felt I needed to get involved to help where I could," he said.
He noted that active law enforcement officers have some of the same issues as combat veterans.
Forgotten Heroes Ranges and Retreat in McGregor aims to provide a sense of camaraderie, dignity and hope to veterans and individuals with disabilities.
"We have to go to these tragic scenes and events one minute and then go home to the kid's birthday party and pretend nothing happened," he said.
Albert said he hopes the group can expand soon to include firefighters and all first responders with issues.
Getting people outdoors fishing, backpacking, snowmobiling, foraging, riding ATVs, "all of those activities get people out of their house, out of their funk and joined with other veterans suffering similar issues," Tetrault noted.
"Part of it is just getting outdoors," Tetrault noted. "But they also connect with people who have similar stories, similar issues. You can watch them interact on these trips and see them smile and know it's doing good."
For more information on Hometown Heroes Outdoors, go to hometownheroesoutdoors.org .
Saturday fundraiser in Virginia
Hometown Heroes Outdoors is hosting a fundraiser event Saturday, Sept. 24, from 2-7 p.m. at the Sawmill Saloon and Restaurant, 5478 Mountain Iron Drive, just off U.S. Highway 53 in Virginia.
There will be live bands, including Cowboy Angel Blue and Jimmy Jukebox; a corn hole tournament; roast pork dinner; raffles and prizes; children's events; and more. Prizes include a cooler full of meat, a Red Lake ice fishing trip, guns and more.
Tickets are $10 for adults and $5 for kids age 6-13 and can be purchased at the Sawmill or by calling 218-264-2527. All proceeds go to pay for outdoor trips for active or retired military and law enforcement personnel.
Veterans' mental health issues
Fewer than 50% of veterans receive the mental health assistance they need.
An average of 22 veterans die by suicide every day.
Since 9/11, some 30,177 active duty personnel and veterans who served in the military have died by suicide compared to 7,057 service members killed in combat.
Veterans are 1.5 times more likely to commit suicide than the general public.
It's estimated up to 20% of veterans experience and suffer from PTSD. It's not that they are less likely to cope with it but that they are more likely to witness events likely to trigger PTSD.
About 11%-20 % of veterans who served in Operations Iraqi Freedom and Enduring Freedom have PTSD in a given year while about 12% of veterans of the Gulf War and an estimated 30% of veterans of the Vietnam War suffer from PTSD at some point.
Sources: Centers for Disease Control and Prevention, U.S. Army, U.S. Veterans Administration, U.S. Department of Defense, National Center for PTSD.
Service members and veterans who are in crisis or having thoughts of suicide, and those who know a service member or veteran in crisis, can call the Veterans/Military Crisis Line for confidential support available 24 hours a day, seven days a week, 365 days a year. Call 800-273-8255 and press 1, text to 838255 or chat online at veteranscrisisline.net/chat .
Call the National Suicide Prevention Lifeline 800-273-8255 or text HELLO to 741741.