Area Girls Golf: Birkeland, Patriots hot out of the gates
Six area teams were in action Wednesday, April 26.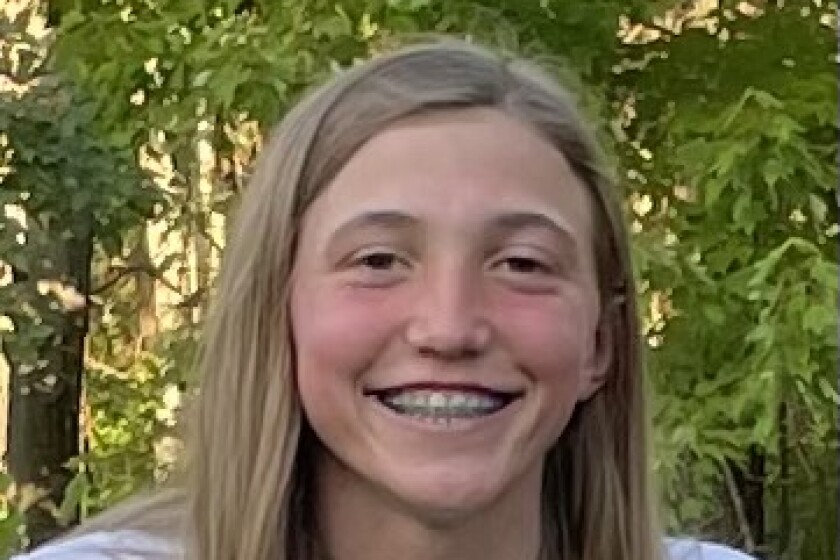 CROSSLAKE — Genevieve Birkeland started this season where she finished last season at, or near, the top.
The Pequot Lakes Patriot fired a first-place 74 Wednesday, April 26, to lead Pequot to a winning team score of 320 at Crosswoods Golf Course.
Teammates Morgan Krieger placed second with a 77, Annie Neva tied for third with a 79 and Charlee Sullivan shot a sixth-place 90.
Staples-Motley's Mallory Uselman tied for third with her 79.
Hannah Barchus placed fifth with an 86 and Cate Travis was seventh with a 96 to lead the Pine River-Backus Tigers to third.
Team scores: 1-Pequot Lakes 320, 2-Detroit Lakes JV 399, 3-Pine River-Backus 403, 4-Grand Rapids 417, 5-Wadena-Deer Creek 430, 6-Cass Lake-Bena
Individual medalist: Genevieve Birkeland (PL) 74
Pequot Lakes results: 2-Morgan Krieger 77, 3t-Annie Neva 79, 6-Charlee Sullivan 90, 16t-Bahati Gibbs 103, 19-Isabel Larson 104, 22t-Alexa Pietig 109, 34t-Maria Neva 117, 39-Taylor Max 128
Pine River-Backus results: 5-Hannah Barchus 86, 7-Cate Travis 96, 22, 22t-Kassidy Bristow 109, 29t-Ava Hansen 112, 29t-Lyric Aulie 112, 32-Molly Lupella 113
Staples-Motley results: 3t-Mallory Uselman 79, 13t-Katelyn Schotzko 102, 20t-Walker Johnson 105
Wadena-Deer Creek results: 12-Emma Weniger 100, 25t-Libby Hartman 110, 25t-Amara Neuerburg 110, 25t-Kelanie Oldakowski 110, 37-Hannah Dosdall 125
Next: Pequot Lakes, Staples-Motley in Bemidji Invite at Crosswoods 11 a.m. Friday, April 28; Pine River-Backus in United Noth Central Invite at Blueberry Pines 10 a.m. Monday, May 1.
MILACA — The duo junior duo of Cameryn Herold and Tiffany Virnig led the Pierz Pioneers to fourth place Wednesday, April 26, in the Milaca Invite at Stones Throw Golf Course.
Herold shot a sixth-place 81 and Virnig a 10th-place 88 for Pierz's 169 team score.
Crosby-Ironton/Aitkin placed 15th with Aya Alarab's 108 leading the way.
Team scores: 1-Andover 165, 2-Becker 158, 3-Zimmerman 167, 4-Pierz 169, 5t-St. Cloud Cathedral 178, 5t-Cambridge-Isanti 178, 7-Milaca 180, 8-Big Lake 182, 9-St. Anthony Village 183, 10-Mora 186, 11-St. Francis 192, 12-Melrose 199, 13-Pine City 200, 14-Paynesville 206, 15-Crosby-Ironton/Aitkin 225
Individual medalist: Audrey Swenson (Andover) 74
Crosby-Ironton/Aitikin results: Aya Alarab 108, Kenzie Bill 117, Keina Stirewalt 134
Pierz results: Cameryn Herold 81, Tiffany Virnig 88
Next: Crosby-Ironton/Aitkin in Park Rapids Invite at Headwaters Golf Course 9 a.m. Monday, May 8; Pierz in Granite Ridge Conference meet at Elk River Golf Club noon Thursday, April 27.
SAUK CENTRE — Macey LeBlanc's sixth-place 102 led the Pierz Pioneers to third place Wednesday, April 26, in the Sauk Centre Invite at Greystone Golf Club.
Kari LeBlanc finished 13th and Melany Virnig was 14th followed by Kylie Virnig in 16th place for Pierz.
Team scores: 1-Albany 393, 2-Barnesville 422, 3-Pierz 443, 4-Benson 495, 5-Sauk Centre 497, 6-Barnesville 2 505, 6-Osakis
Individual medalist: Kaitlyn Lahr (Albany) 93
Pierz results: 6-Macey LeBlanc 102, 13-Kari LeBlanc 111, 14-Melany Virnig 113, 16-Kylie Virnig 117, 21t-Brooke Athman 125
Next: Pierz in Granite Ridge Conference meet at Elk River Golf Club noon Thursday, April 27.