Area Girls Golf: Birkeland, Patriots win presection
Six area girls' golf teams were in action Monday, May 1.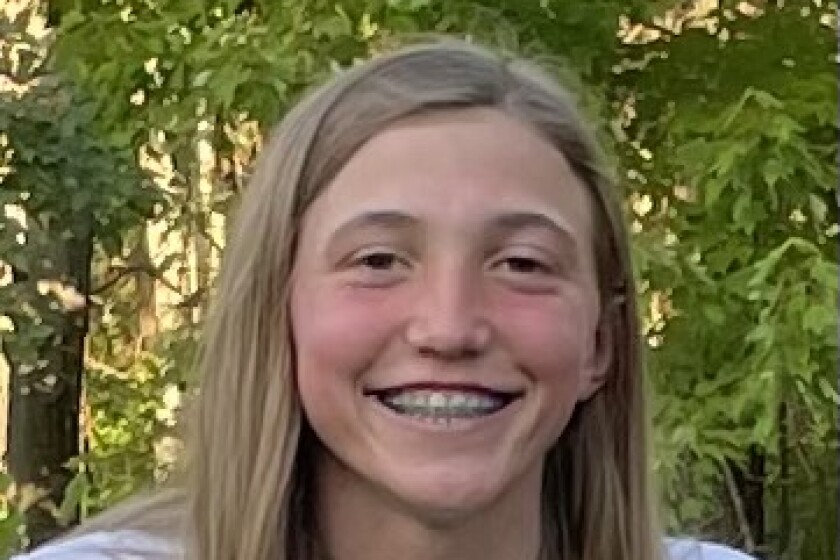 SARTELL — Genevieve Birkeland fired a first-place 82 and Morgan Krieger was right behind with an 84 as the Pequot Lakes Patriots won the Section 6-2A Presection meet Monday, May 1, at Blackberry Ridge Golf Club.
The Patriots won by 23 strokes over second-place Albany. Charlee Sullivan, Isabel Larson and Annie Neva all shot 99s for Pequot's 364.
Staples-Motley's Mallory Uselman placed sixth with a 96. Walker Johnson tied for 14 with her 103.
Pierz placed fourth as a team and was led by Tiffany Virnig and Joleen Weyer, who both shot 104s to tie for 17th.
Team scores: 1-Pequot Lakes 364, 2-Albany 387, 3-St. Cloud Cathedral 418, 4-Pierz 437, 5-Milaca 445, 6-Melrose 456, 7-Kimball 485, 8-Paynesville 495, 9-Sauk Centre 497, 10-Osakis 541, 11-Royalton 566
Individual medalist: Genevieve Birkeland (PL) 82
Pequot Lakes results: Genevieve Birkeland 82, Mogan Krieger 84, 8t-Charlee Sullivan 99, 8t-Isabel Larson 99, 8t-Annie Neva 99, 58-Bahati Gibbs 141
Pierz results: 17t-Tiffany Virnig 104, 17t-Joleen Weyer 104, 25-Laila Bell 113, 28t-Cameryn Herold 116, 28t-Kari LeBlanc 116, 35t-Kaylee Gruber 121
Staples-Motley results: 6-Mallory Uselman 96, 14t-Walker Johnson 103, 51-Katelyn Schotzko 134
Next: Pierz in Granite Ridge Conference meet at Albany Golf Club Tuesday, May 2; Pequot Lakes in Park Rapids Invite at Headwaters Country Club 9 a.m. Monday, May 8; Staples-Motley at Alexandria Invite 9:30 a.m. Saturday, May 6.
MENAHGA —Emma Weniger's third-place 90 led the Wadena-Deer Creek Wolverines to a second-place showing in the Northern Pines Conference meet Monday, May 1, at Blueberry Pines.
Kelanie Oldakowski shot a 104 for W-DC.
Hannah Barchus and Cate Travis both shot 99s to lead the Pine River-Backus Tigers to third.
Team scores: 1-Park Rapids 377, 2-Wadena-Deer Creek 417, 3-Pine River-Backus 429, 4-Nevis 506, 5-Cass Lake-Bena inc.
Individual medalist: Madysen Maninga (Park Rapids) 86
Pine River-Backus results: 9t-Hannah Barchus 99, 9t-Cate Travis 99, 18t-Kassidy Bristow 114, 21-Lyric Aulie 117, 25-Ava Hansen 126, 26-Ayla Richards 127
Wadena-Deer Creek results: 3-Emma Weniger 90,12- Kelanie Oldakowski 104, 16-Alexandra Pavek 110, 17-Libby Hartman 113, 23t-Amara Neuerburg 124
Next: Pine River-Backus, Wadena-Deer Creek at Northern Pines Conference meet at Headwaters Country Club 9 a..m. Monday, May 8.
ELBOW LAKE — Kimberly Keefe shot a sixth-place 99 for the Pillager Huskies in a Quad County Conference meet Monday, May 1, at Tipsinah Mounds.
Team scores: 1-Ottetrail Central 289, 2-West Central 316, 3-New Testament Christian 335, 4-Hillcrest Lutheran inc.
Individual medalist: Sophie Huillman 89
Pillager results: 6-Kimberly Keefe 99
Next: Pillager in Quad County Conference meet at Pebble Lake Golf Course 1 p.m. Thursday, May 4.