Athletics: Freeman's first year was one of success: His and his programs
First-year activities director at Brainerd High School Jack Freeman was a busy man last season.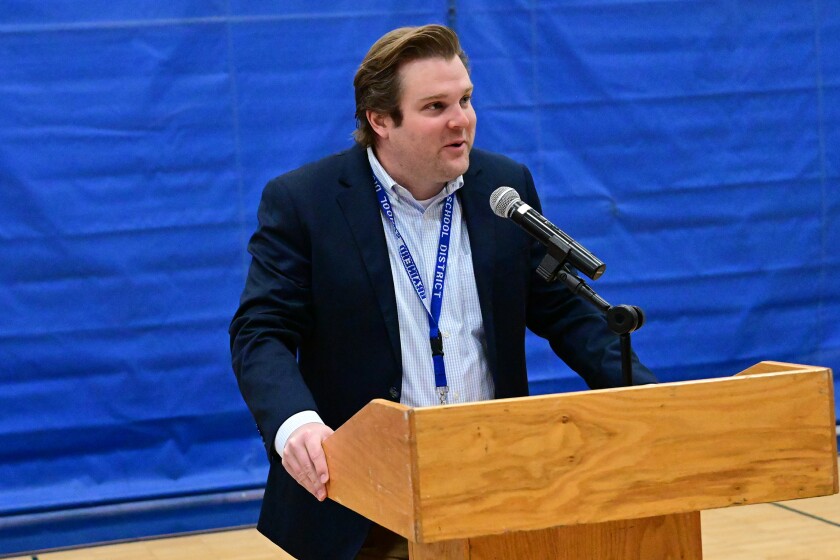 BRAINERD — If you attended a Brainerd High School activity this past school season chances are you saw Jack Freeman.
You may not have known it was Brainerd's first-year activities director as he likes to hang in the shadows and allow his coaches, instructors and, of course, student-athletes to shine. But Freeman was there. In fact, some within the school district believe Freeman was everywhere.
And that was by his design.
"Priority No. 1 this year was learning our programs and the people that make up our programs," Freeman said. "I was very intentional in trying to immerse myself with every sport and activity. I get to go to a ton of events in this role and that's the highlight of this job is getting to see our students on the stage or in the arena and watching them and our coaches. That's the highlight of this job. That's the part I loved the most was going to see our kids perform and play."
As the Brainerd High School Principal, Andra Rusk attends many events but even she was in awe at Freeman's frequent presence.
"I can't tell you how many events Jack attended," Rusk said. "Our expectations are that we share responsibilities and we really do not want to burn him out, but it's easy to do in that position. Jack really wanted to learn about all the programs and he made a point of being very involved."
And it didn't go unnoticed. Cindy Clough, head coach of the Brainerd dance teams, has dealt with four different activities directors in the last 25 years, but she noticed Freeman's presence right away.
"It's great to know you have that support and I don't know how he went to all the events he went to," Clough said. "I also think it's neat that he was an athlete and he was in choir so he sees the performing arts side of things and tries to be very supportive in that regard, too. People sometimes think it's just athletics, but there are all these different activities that need to be focused on as well. I think Jack did that.
"It's definitely a job that could come with burnout, but in every new job you're going to have some burnout to learn the ropes."
Jason Freed, the Warriors' head football coach, said Freeman's visibility is a huge boost not only to the coaching staff but to the parents, community and student-athletes.
"That's big not only from a support standpoint that your activities director is present, watching and engaged, but I think the other big thing is for parents and your student-athletes to see your activities director at all of these different activities as well," Freed said. "It just shows that to him every single one is equally important. When people in the community and your student-athlete see your activities director present and watching it's a big deal.
"I think that helps them make connections off the court and when they see each other you can make those connections as to who the leader of the activities department is."
Freeman immersed himself into all of the activities and that's because he had to. He wasn't hired until August. As of July 3, He still doesn't have a full year under his belt. But it's also his first administration job ever. Rusk worried Freeman was so good at his job that people might not remember how new to it he is.
"I don't know that there was anything that he missed," Warrior activities secretary Michelle Hiborn said. "He was so engaged and wanted to be a part of everything firsthand. I think he knows to be supportive in the future he needs to know what is expected of our coaches at each level. He put in the extra hours and he went the extra mile every day."
Freeman admitted there was more to the job than meets the eye. The humble leader expressed his gratitude for the people surrounding him. He said those within the district, past and present, were helpful to him in learning on the job and getting that job done.
"I knew there was going to be a steep learning curve," Freeman said. " I talked with my wife that this year was going to be busy. I didn't know what that was going to entail and I think when you look at some of the postseason success that our teams had we had some teams and activities that enjoyed historical years. To be a part of that and witness that success firsthand and support them as they were going about that was very special."
rush
Like the Warriors' success, Freeman also exceeded the high expectations of Rusk.
"He was the right guy for the position," Rusk said. "I think he did a fantastic job of coming and listening and learning and yet offered some really great ideas to continue what we want to do, which is always improve.
"I'm sometimes guilty of having really high expectations and I don't think they were unreasonable, but I do think that Jack met them. I've described him as wickedly smart. He is very smart. I think he really balances his smarts also with his tremendous relationship skills. He is a really great person."
Rusk knew it would be a learning experience for Freeman this season and called it a "baptism by fire" since he was thrust into the role just as things were heating up for the fall season. But she hoped for feedback and a different perspective on programs and the administrative team as a whole. She appreciated Freeman's respectful way of offering his thoughts and opinions. Freeman's ability to not only see things that could improve, but to bring alternatives or ideas that could be implemented to make those improvements impressed Rusk the most.
Freeman wouldn't take any credit
"Today's day and age it can be easy to be the critic," Freeman said. "It's more important to be the person that can notice these things and come up with solutions for them. I think the big part of that is I care. I want to see Brainerd be successful in all that we do. I know there are some things we can do better and as we come across those things it's important to figure out how we can do them better. It's talking to the right people and many of the solutions I'm coming up with I'm leaning on the incredible people we have in place here. I'm getting their advice, their expertise and their knowledge of the situation and then implementing that and running with it. That's probably more credit to the people around me than anything I should be taking credit for."
In his first few months, Freeman had to hire three new head coaches for his old job as girls' hockey coach, gymnastics and girls lacrosse. In the lakes area, finding a lacrosse coach isn't easy and across the state finding a gymnastics coach is more difficult.
"That's one of the things I'm most proud of," Freeman said. "We have a great coaching staff in place and to be able to add to that and add to it with three quality people that's very special. I think all three of those programs are in great places and have great cultures. The best advice I got was to make sure I hire great people and with those three hires I couldn't be more proud of the work that they're doing and the people that we have in place leading those programs."
Rusk echoed Freeman's feelings.
"I think he did, and in addition to hiring, it's important to note that he provides really strong support," she said. "He provides a lot of support and mentoring and he does it in a way that doesn't seem threatening to them as a new person. They can take some risks and maybe try things and know that Jack is going to be behind them. That's a sentiment I've heard from a number of coaches."
Said Clough: "I just feel Jack has done an exceptional job his first year. Especially being hired so late in August and hit the ground running. It had to be so difficult. He really came through with flying colors."
What impressed Hilborn the most was Freeman's ability to see the problem and handle it and carry through with the solution in a way that was respectful, professional and compassionate, she said.
"Jack has just lifted us to the next level," Hilborn said. "He is insightful and very intelligent. He has the ability to bring all of the coaches together. He's providing opportunities and taking what was there before to connect the programs and the community and has just done an outstanding job. He isn't reactionary. He can look at the road ahead and is very good at figuring out which is the best way to get to where we are to the next level we need to get to.
"He has just been an absolute gift to this district."
Freeman continued to deflect praise like Brainerd girls hockey goalie Breya Sawyer deflected slapshots. He said the knowledge in the room when he conducts coaches' meetings is impressive, but the character of those in attendance is intimidating.
"They're great people," he said.
He said they were an incredible resource along with Hilborn and Rusk and most important his wife, who he'll have to get reacquainted with after a busy 2021-22 season.
"She's the ultimate coach's wife," Freeman said. "Me being at events at night, that was time away from home. She was the rock for our family and she always has been. She used to coach herself and she supported me as I was a multisport coach. I couldn't have done it without her. I know a lot was put on her plate this year and she's just as steady and supportive as they come. I lucked out there."
So did Rusk, in hiring Freeman despite his lack of previous administration experience, but she knew what she had in the hire.
"He's a true Warrior and I know that sounds cliche," she said. "I remember Jack going through high school. I remember him as an athlete. I remember him as part of our top music group. I saw him as a really top academic student and he just exudes all of those things here and that makes him a great fit."
In so many ways Freeman was the perfect fit for Brainerd. He could have been the coach that took the Warrior girls hockey team to state, but he gambled on himself and let his former assistant coach Tate Rusk do it.
But Freeman is the type of guy who finds joy in others' successes. In fact, he can't stop talking about it.
"Whenever I speak to the community I always say that if a student has a passion they're going to be able to explore it at Brainerd High School," Freeman said. "I think this year is proof of that. From our Super Mileage team having a record finish to our acapella choir touring in New York City to our knowledge bowl team putting two teams in the top 10 for the state to our robotics team having their highest finish ever in the state to our athletic teams sending 19 different sports, whether it be team or individuals, to state tournaments, I think it just shows you all the good that is happening in Warrior activities and all the amazing things that we offer our kids. I think they're going to get an interscholastic experience at Brainerd High School that is second to none. That's what I take the most pride in with this role."
JEREMY MILLSOP may be reached at 218-855-5856 or jeremy.millsop@brainerddispatch.com. Follow on Twitter at www.twitter.com/jeremymillsop.
The Little Falls Flyers needed to win two games in the Section 8-3A loser's bracket to advance to the championship Saturday, June 3.
Crosby-Ironton junior earns area athlete of the week
Little Falls senior earns area athlete of the week