Athletics: Warrior junior two-sport athlete in fall
Bennett Bernander kicks goals and field goals in the fall for the Brainerd Warriors
We are part of The Trust Project.
Bennett Bernander lives a double life in the fall.
The Brainerd junior plays on the soccer team for most of the week, but on Fridays, he can be found wearing a helmet kicking for the football team.
For the third straight season, the Brainerd football team has used a soccer player as their kicker.
Jeremy Duff played the role of kicker in 2020 and Ryan Westerberg kicked for Brainerd in 2021. Both doubled as soccer players. On the freshman football team, there is another soccer player kicking.
"I think from a culture standpoint in the school it's been a huge benefit for everyone," Special teams coordinator Wade Haapajoki said. "We share the field with them for practice. We will go to games at times and it's how the high school experience is supposed to be. I know the ninth-grade team has a soccer player kicking for them and it's fun. It brings everyone together."
Bernander said playing on both teams is different, but not as hard as it may seem.
"I wouldn't say it's difficult managing both," he said. "It's just being busy with two sports in a season. It's fun. I feel like more people recognize me at school."
After special teams practice with the football team Thursday, Sept 29, Bernander scored a goal later that evening in the boys' soccer team's 2-0 win over St. Cloud Tech.
"When Bennett is on he is on," Warriors head boys soccer coach Tom Grausam said. "He makes great passes. He can dribble around people. He can shoot. He was on against Tech."
The soccer team currently stands third in the Central Lakes Conference with a 5-2-1 conference record and an 8-3-3 record overall.
"For soccer, we have just been focused on playing as a team," Bernander said. "We are pretty well-rounded. At least, not one of us is that much better than the others like in past years. So we have to work as a team with our passing. As long as we stay connected, I'm pretty sure we could go pretty far in the playoffs."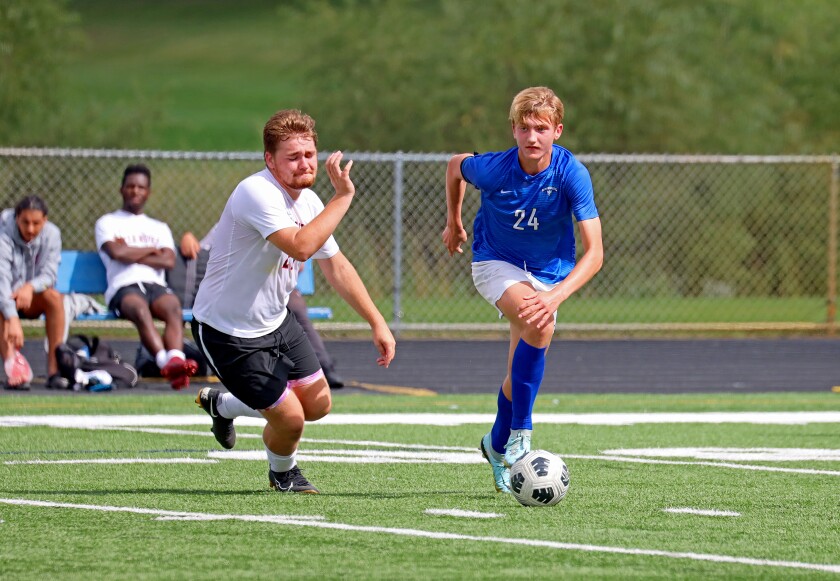 Bernander also found the net in Brainerd's 3-2 win over Bemidji Sept. 24.
"My role for the soccer team is similar to my role on the football team," Bernander said.
Haapajoki said Bernander is a valuable weapon for the football team.
"The biggest thing for us is that he can kick it high enough to outkick coverage," Haapajoki said. "He can kick it in the endzone. He can kick it in spots to mess up other teams' returns. It just gives us a nice added dimension. Our defense is our strength, so it plays into that."
Bernander says the Warriors football staff, including Haapajoki, have helped him be a better kicker."They are very thoughtful because the last two years they've had a soccer player be a kicker," Bernander said. "They know I have to work it into my schedule and that I'm not always around."
Bernander's range stretches to 45 yards on field goals. He's missed his lone opportunity at a field goal this year, but has nailed 11 extra points.
He's kicked nine touchbacks on 26 kickoffs with a 52.1 average yards per kickoff.
"We don't get him (in practice) often, maybe once or twice a week, but he has definitely put in some time," Haapajoki said. "There's not a competitor like Bennett. He wants to kick everything a mile and make everything perfect. With kicking, it's routine and practice and he's figuring that piece out. But he's hit 45-plus yarders in practice."
Bernander says he can extend his range depending on the wind.
"We try to go for a 42-yarder in practice," he said. "But I've hit a few 45- and 46-yarders."
Bernander said the football team has been very welcoming to him.
"Both teams are different," he said. "There are just so many more people on the football team. There seems to be more team bonding on the soccer team. We know more about each other individually. But then, I have a lot of friends on the football team, so I can make connections that way."
Besides soccer and football, Bernander participates in basketball and track and field.
Having the choice between a game-winning field goal and a game-winning goal, Bernander was unsure which would be more satisfying.
"That's a tough question," he said. "It depends on the scenario. I'd say I like soccer more overall, so it would be fun to get the game-winning goal against a rival. But a 50-yard field goal for the win would be pretty awesome."
CONRAD ENGSTROM may be reached at 218-855-5861 or conrad.engstrom@brainerddispatch.com. Follow on Twitter at www.twitter.com/the_rad34.