Athletics: Wennerstrand a Warrior in every way
Sara Wennerstrand is one of five people to be inducted into the Warrior Athletic Hall of Fame.
BRAINERD — If Sara Wennerstrand had her way, she would have played three sports in college.
As it was, she played two.
Not a single one of her high school coaches would have doubted she could have played any sport in college. That was the respect and admiration Wennerstrand cultivated during her time as a Brainerd Warrior.
Her talent, her leadership and her character are all reasons she will be inducted into the Brainerd Warriors Athletic Hall of Fame Monday, May 1, during the Warrior All-Sports Banquet at Brainerd High School. Wennerstrand will be joined by one one of her tennis coaches Ellen Fussy and fellow Brainerd coach Dave Herath, former coach and athlete Walter Engebretson and former athlete Chad Weiss.
"She was just a phenomenal athlete, but more importantly just an amazing person," Brainerd girls' tennis coach Lisa Salo said. "She is one of those athletes that every coach could rely on her to lead the team and put forth 100% effort all of the time. She was a team player. She's a very talented athlete. She could have played any sport, and I'm so glad she chose tennis as her fall sport. She wanted to be the best she could be, but she made everyone around her better."
Former Brainerd head softball coach Mike Zauhar echoed Salo's words.
"She was a senior my last year and I couldn't have gone out with a better group of young ladies," Zauhar said. "I had a ton of seniors and they were very talented. We ended up one game short of going to the state tournament. We followed Sara at St. Ben's and I just can't say enough good things about her. She was just outstanding in every aspect of the game and character. She is one of the better one's that I had and I had some good ones."
Wennerstrand lives in Michigan where she is a pediatric occupational therapist. One day in late March she got a call from former Dispatch Sports Editor Mike Bialka
"First Mike Bialka called me and informed me of the honor," Wennerstrand said. "He had written a lot of articles about me when I was in high school so it was fun to hear from him and it was quite the surprise. Then shortly after, my high school tennis coach Lisa Salo congratulated me. It was such a surprise and an honor."
To say the former tennis, hockey and softball player was surprised would be an understatement.
"Oh my gosh," Wennerstrand said. "I think I was truly surprised and honored and humbled to be a part of the hall of fame nominees and the people in it. My first reaction was a lot of surprise, but also feeling honored and grateful to be part of it."
The 2014 Brainerd Female Athlete of the Year was also a Minnesota State High School League Triple A award winner.
In Tennis, she was a three-time state participant. She went twice as a member of a team and then advanced to state as a doubles team during her junior season. She was a two-time All-Central Lakes Conference selection, all-state academic, team MVP her senior year and reached 100 career victories.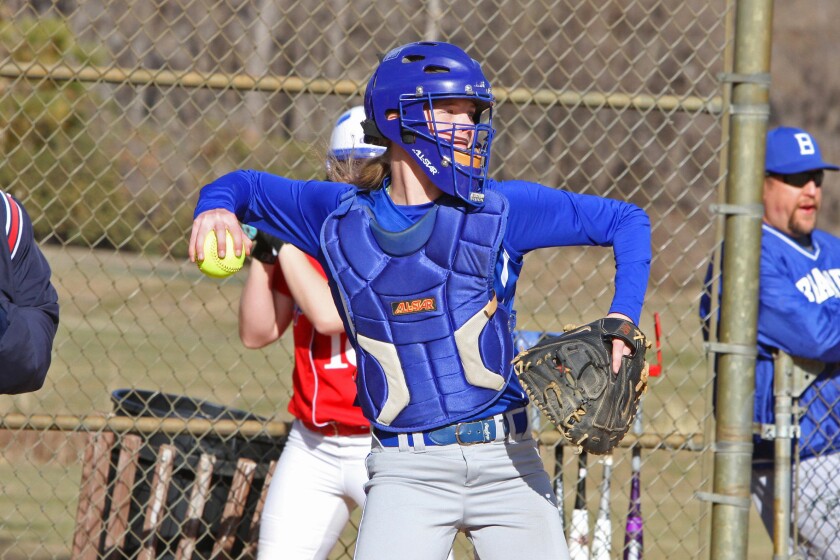 "Tennis was absolutely a fantastic experience," Wennerstrand said. "When I first started it was my freshman year and Ellen was my coach. It was just so fun to be a part of that varsity tennis program. Especially as a freshman because I feel like I was so young compared to everyone else and they just included me and made me feel at home. It enabled me to enjoy the experience just as much as anybody else.
"Then later on with Lisa and the other girls, the best part was making memories with all my teammates. Awards and accolades were fun as well, but the best part was being part of a group that was so tight-knit and dedicated to getting better."
In hockey, Wennerstrand showed her versatility by switching to goalie her last two seasons. She was the team MVP and earned all-conference honors
"I changed to a goalie, I think it was my junior year," Wennerstrand said. "I grew up as a forward mainly, but in high school, and I'm not even sure how it came about, but somebody mentioned that I might be a good goalie. I gave it a shot so at that point, coach (Chuck) Whalen was the goalie coach and he really helped me grow my game in a short amount of time, which I'm very grateful and thankful for. I had a fun time switching even though it was so late."
In softball, Wennerstrand played catcher and was an All-State selection her senior year. She was a two-time all-conference player and all-section her junior year. She was Academic All-State and named Defensive Player of the Year as a junior. As a sophomore, she was named Rookie of the Year.
"No. 1 she was the total package," Zaahuar said. "She was a three-year starter for us. She had great defensive skills. I think she started at first base as a sophomore and then we moved her to catcher. She was just an outstanding defensive player and an outstanding offensive player. She had a great swing and the best attribute she had was her attitude. She was so easy to coach. She was such a hard worker. Her parents did a great job of raising her. She was an outstanding captain and leader."
After college, Wennerstrand played four years of softball at the College of St. Benedict. After four years, she attended graduate school at St. Scholastica. At about that time, a new NCAA rule was announced.
"I was informed that there was a new rule in college athletics that if you played four years in one sport, you still had another year of eligibility in another sport," Wennerstrand said. "I always wanted to play tennis, or even hockey, in college. I would have loved to play all three, but in college, it just doesn't work like that. But I had an opportunity and I wondered if my grad school would accommodate me."
Wennerstrand will always see herself as a Warrior.
"I think being a Brainerd Warrior was really truly about pride for the town and the people that I was able to play with," Wennerstrand said. "Everybody who knows Brainerd and has been a part of the Warrior experience has pride for the school and what it means. I think a lot of it had to do with hard work and dedication and really just the community surrounding the Warrior pride."
"I don't think I could have had the success I had and the fun without all of the support of the people around me -- my coaches, my teammates, my parents and my family. That support was truly meaningful to me. I felt loved and I've always felt like a huge part of the Brainerd community."
JEREMY MILLSOP may be reached at 218-855-5856 or jeremy.millsop@brainerddispatch.com. Follow on Twitter at www.twitter.com/jeremymillsop.