College Football: Studious Staehling prepped for next step at NDSU
Former Brainerd Warrior Nathaniel Staehling said the year of learning was much needed at North Dakota State University.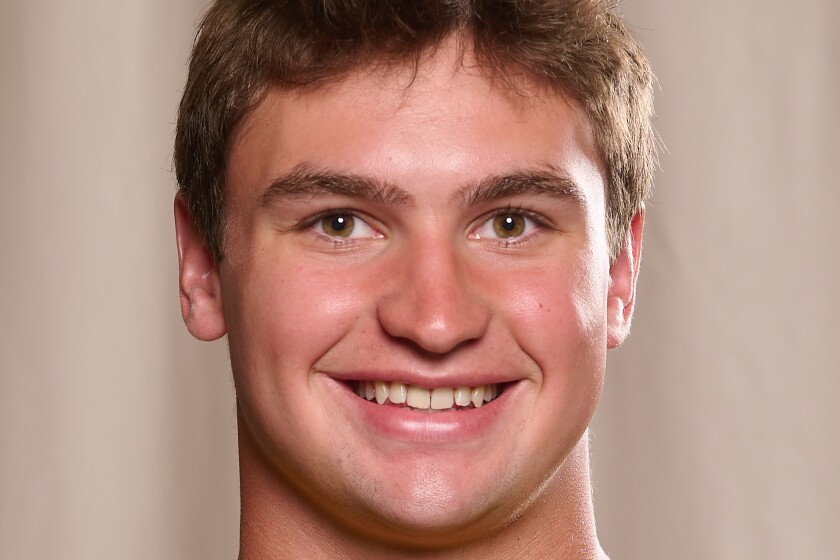 FARGO — Nathaniel Staehling didn't see the football field for his freshman year, but that was by design.
The first-year North Dakota State University linebacker redshirted his first year on campus. The Brainerd High School graduate took the year to absorb, learn and build himself up physically and mentally to make an impact on the field for the next four years.
And he learned a lot. Not only about how to play his new position as a linebacker at the next level, but about the football system, college life and what it means to be a Bison football player.
Q: How was the first year at North Dakota State University?
NS: It was awesome. It's been really fun. I'm really satisfied with the football program and everything that comes with NDSU. It's been awesome. It's been a lot of growing and a lot of developing so it's been good.
Q: Did you get to go to Frisco, Texas, for the FCS Championship game against South Dakota State University?
NS: It was surreal. It was super, super cool just to see what it's like down in Frisco. Getting to connect with a lot of the guys and getting to know guys a little bit better and then obviously the experience of Frisco and going to the national championship and see how the older guys operate situations like that was cool.
Q: As a three-year varsity starter and someone who has played football every year growing up, how different is it to go from a starter playing the whole to sitting on the sidelines and watching and getting ready for next year?
NS: It's definitely different. I think when you come into a Division I football program everyone is a dude. You're a little fish in a big pond and you have to earn your spot. It takes time to earn your spot so it's definitely humbling, but you just need to get after it and put your head down and work.
Q: In those first few practices, how much of a speed difference is college football from high school?
NS: It's a lot faster, especially as you're learning the playbook. You're head's kind of fishing all the time so it seems incredibly fast and overstimulating. It's definitely hard at times and it's a big change and a big learning curve.
Q: How much fun was it to just dive into football? To be able to concentrate on one sport for such an extended period of time?
NS: It's really good. Just being able to come from the bottom and slowly work your way up Just seeing your growth throughout, what it's been eight months since I've been here, just seeing that growth from Month One to Month eight has been incredible. I've just been able to focus on myself and grow and develop. All of us freshmen have been doing the same thing. We've been relying on each other and just building those connections by working together.
Q: What's been your biggest surprise? What were you not expecting?
NS: Probably just the learning curve and how much you can fit into one day, especially during fall camp. I didn't know you could fit so much into one day. It's a lot of football. You really have to love it, which I do. The learning curve and getting comfortable with everything that goes along with NDSU football.
Q: How much bigger and faster are you now?
NS: I came in around 224 pounds. I'm sitting around 230 pounds and I've gotten faster and stronger. I've gained a few pounds and gotten faster and shaved off some time on some tests. Overall, I've grown and developed.
Q: Going into spring practices and then into next year how will your expectations change?
NS: I think I just want to make an impact on the team in whatever way I can. I'm just really going to put my head down this offseason and work and do my best to make an impact on the team.
Q: How has life changed for you?
NS: It's just busy days. I wake up, go to class and just do class. Then I have workouts and practice and then our meetings and more practice. There's a lift in there, too. You fit a lot into one day, but once you get into a routine or schedule it all comes together and it works well. It's definitely been a lot different than being in high school and being in school all day.
Q: How much have you learned about football? How advanced is it compared to high school football?
NS: In my opinion, they're really not comparable. High school football is much easier than college football. There's a lot more that goes on in college football. There's a lot more to digest on each play and it's just more complex. It's broken down into a much deeper level of understanding and game comprehension.
Q: Is it more fun to be that in-depth with everything or would you rather just be flying around?
NS: I think it's actually fun because once you understand it you can fly around. That takes years. You have to learn it in order to understand it and play fast. You have to know what you're doing.
Q: The expectations and the level of success at NDSU are so high, what it's like to be a part of that program?
NS: I think it's a great thing. Being held to such a high standard carries over into other aspects of life. Whether it's relationships, goals, making sure you have good grades and just holding yourself accountable all together helps you become a better person. It helps you excel in all aspects of life.
Q: How has school been?
NS: School has been good. It hasn't been a problem. For me, it hasn't been hard to balance football and school.
Brainerd boys swimming and diving banquet awards
3 area track and field meets Tuesday, March 28