Female Area Athlete of the Week: Carsten a scoring machine for Wolverines
Wadena-Deer Creek senior earns area athlete of the week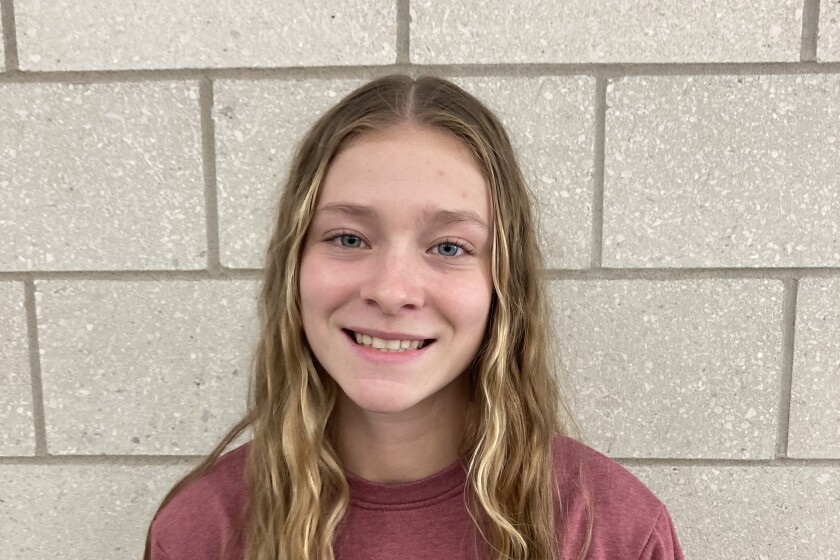 It's been a senior year to remember for Madison Carsten.
The Wadena-Deer Creek athlete finished the fall season as a Class 2A All-State volleyball player and helped the Wolverines nearly upset Pequot Lakes in the Section 6-2A semifinals.
This winter, Carsten keeps the high-level play going on the basketball floor.
Last week, Carsten recorded 29 points in a win over Parkers Prairie and 23 points in a win over Long Prairie-Grey Eagle.
"I was just really confident in taking it to the rim," Carsten said. "My teammates also had confidence in me by setting me up which helped a lot."
In the Parkers Prairie game Feb. 9, Carsten also surpassed the 1,000-point milestone in her career.
"It made all my hard work pay off," Carsten said. "It was special how supportive all my teammates and coaches were to me."
WDC head coach Jordan Cresap said Carsten does a little bit of everything for her team.
"She leads us in the effort plays. She's our leading scorer. She makes plays for others. She's not forcing things and always guarding the other team's best player while doing it," Cresap said. "Her numbers have been fantastic. It's just her work ethic and her will to win which is what stands out."
She scored 23 points in a loss to Henning Feb. 2. She poured in 20 points in a blowout win of Bertha-Hewitt Jan. 31.
On Jan. 27, Carsten scored 23 points in a loss to New York Mills. A week prior, she recorded 25 points in a win against Sebeka.
"I put a lot of work in my outside shooting in the summer and outside of practice," Carsten said. "Also, I think being aggressive when I drive to the hoop helps me have a good chance of putting the ball in the hoop."
Carsten also reached 25 points in a win against Park Rapids Dec. 22. Her season-high came Dec. 12 when she tallied 33 points in a loss to Crosby-Ironton, where she nearly outdueled freshman phenom Tori Oehrlein, who scored 39 for the Rangers.
"You can call her a gamer," Cresap said. "She really rises to the occasion in those big games and has done it all year. It goes to her competitiveness and leaning back on all the work she's put into the game. She wants those matchups and wants those big-time games and she wants to be put in those positions because she is fearless."
Carsten said her competitive side shows in the type of leader she is.
"I just want to fire everyone up to play hard to give us the best chance to win," she said.
For the past two basketball seasons, Carsten was sidelined with knee injuries. Even with her absence on the court, Cresap said Carsten was still present with her teammates.
"Through two devastating injuries, she's been out nearly two full years," Cresap said. "To have her come back and contribute in this sort of way is special. Being there along the way, she was so diligent and committed to her therapy. She was in the gym even when she was recovering from her injury. To see her back healthy for her senior year is cool.
"Despite her injuries, she's been with us every step of the way. She's been with the team, learning and engaging with what we are doing as a group and all the changes we've made. I think that helps and she's been so dedicated to the team and sacrificed a lot and that helped her learn even when she wasn't on the court."
It took Carsten a little while to get her confidence back on the basketball court after not playing for two years.
"It definitely felt weird at first," Carsten said. "Once I got the hang of it, I was all good. It was just getting the confidence of playing out there again."
Other notable performances:
Basketball: Tori Oehrlein, Crosby-Ironton, finished with 36 points and 14 rebounds against Pequot Lakes and recorded 34 points against Aitkin.
Maci Martini, Pequot Lakes finished with 30 points against Crosby-Ironton.
Kelsi Martini, Pequot Lakes, finished with 27 points against Detroit Lakes.
Lauren Rutten, Staples-Motley, finished with 20 points against Park Rapids and 22 points against Pillager.
Hannah Barchus, Pine River-Backus, finished with 25 points against Kelliher/Northome.
Cate Travis, Pine River-Backus, finished with 24 points against Cass Lake-Bena and 27 points against Kelliher/Northome.
Wrestling: Madelyn Strohmayer, Aitkin, qualified for state at 114 pounds.
Faith Koning, Wadena-Deer Creek, qualified for state at 145 pounds.
Year: Senior
School: Wadena-Deer Creek
Sport: Basketball
Position: Forward
Highlights: She finished with 29 points against Parkers Prairie and 23 points against Long Prairie-Grey Eagle.