Girls Basketball: Goodhue rebounds from slow start to top Rangers
The Crosby-Ironton Rangers faced Goodhue in the Class 2A State Girls Basketball Quarterfinals Wednesday, March 15, at the University of Minnesota.
MINNEAPOLIS — For the first three minutes of the second half, the Goodhue Wildcats went from looking like a team in shock to the No. 2-seeded team in the Class 2A State Tournament.
Trailing 32-29 out of the halftime break, Goodhue went on a 10-0 run to secure a 39-34 advantage and then hung on to defeat the Crosby-Ironton Rangers 67-59 Wednesday, March 15, during the state quarterfinals at Maturi Pavilion on the campus of the University of Minnesota.
Goodhue point guard Elisabeth Gadient got things rolling with a jump shot at 16:38 of the second half. That was followed by a Tori Miller layup. Miller was fouled on the play and made the free throw to turn a tie score into a one-point Wildcat advantage.
Two Gadient free throws followed by two Miller free throws had Goodhue humming.
"I'm really proud of our whole team for not only overcoming a deficit, but just riding through the waves of the game," Goodhue head coach Josh Wieme said. "That was a good team we just faced. Our kids played strong and they played physical and they had to do it without a lot of breaks. We got stronger as the game went on and I think that's why we were able to come out on top."
A Tori Oehrlein 3-point play stopped the run, but a Jada Scheele put-back brought Goodhue's lead back to four. The Wildcats finished with 16 offensive rebounds and turned those into 21 second-chance points. They outrebounded C-I 40-34 and outscored the Rangers 38-24 in the paint.
"That was the thing we knew coming in that we had to keep them off the boards," C-I head coach Pete Vukelich said. "We had a checklist of five things and if we couldn't check off one we knew we might not get the result we wanted.
"They had a lot of good seals. They just did a great job of sealing us off and really running their offensive sets well."
A Margaret Silgen 3-pointer at 13:38 gave the Rangers the lead once again. Silgen, who struggled scoring in the Section 7-2A final last Friday, caught fire early and finished with 16 points on 6-of-13 shooting. She was 4-8 from 3-point. She added three rebounds and two steals.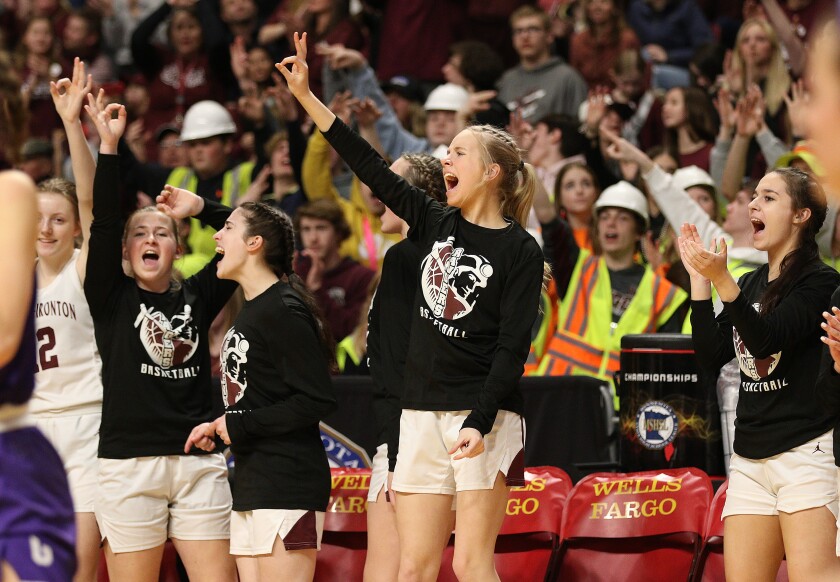 "It was a good feeling, for sure," Vukelich said when Silgen was hitting from outside. "It provided a little relief off of Tori and there wasn't as much pressure on Hannah (Compton) to have to sink them. If we can get three girls rolling then we're in a good spot. It was a huge momentum. I loved our start to the game."
The lead didn't last long as Gadient followed with her own 3-pointer. At 11:48 of the second, C-I regained the lead with an Oehrlein layup followed by a steal and another layup for a 49-46 edge. That lead lasted four minutes before Goodhue closed out the game with its penetrating offense. Kendyl Lodermeier's basket at 7:22 handed the Wildcats the lead for good.
Goodhue finished 18-of-26 from the line with Miller hitting 9-of-13 to finish with 17 points, Lodermeier going 5-of-9 to finish with a team-high 19 and Gadient going 4-4 to score 16. Miller added 11 rebounds and four assists and Lodermeier added nine boards. Gadient finished with six steals as turnovers crushed C-I's hopes of rallying late.
C-I finished with 16 turnovers. Goodhue scored 16 points off of those turnovers.
"I think rebounds were huge and we just adjusted to the physical play and what it took to get those rebounds," Wieme said. "I also think our five on the floor communicated much better and played as one."
The first half was similar to C-I's performance in the Section 7-2A finals. The Rangers hit 6-of-14 from 3-point. This time it was Silgen who scored 10 first-half points. Compton was 2-4 from 3-point range in the first half and scored eight points and Oehrlein had 11 points, 11 rebounds, four assists and three steals in just the first half.
"We know she's a good shooter from behind the arc so we really wanted to have good ball pressure and good help side with her," Gaident said about trying to contain Oehrlein."
Said Wieme: "She's a very strong player and stronger than we expected going in. She's stronger with the ball. She could handle contact and still get past us. She had an explosiveness to get by our first defender that we weren't ready for. I was very impressed. That is a freshman that carried them like that."
Goodhue jumped out to a 5-0 lead. A Compton 3-pointer handed C-I a 14-13 lead at 10:16 of the first half and the Rangers remained in the lead the rest of the half. An Oehrlein 3-pointer had C-I leading 23-16 at 7:32 and the Rangers built their lead to nine at 2:17 on a second-chance basket to make it 32-23.
Goodhue cut that lead to 3 before half, but the Rangers led 32-29.
Oehrlein finished with 27 points, 15 rebounds, seven assists and four steals.
C-I drops to the consolation semifinals. They will play 8 p.m. Thursday, March 16, at Concordia University.
"I think our biggest thing is just remembering that we can still be a top-five team in the state," Compton said. "We can't give up now. If we take this one loss and run with it then that just proves what everyone thought of us coming in."
Crosby-Ironton 32 27 — 59
Mackenzie Lodermeier 5, Tori Miller 17, Melanie Beck 2, Kendyl Lodermeier 19, Elisabeth Gadient 16, Jade Scheele 8. FG 23-61 (38%), FT 18-26 (69%). 3-point 3-12 (25%).
Josie Schaefer 3, Hannah Compton 8, Brynn Hollenhorst 3, Margaret Silgen 16, Samatha Hachey 2, Tori Oehrlein 27. FG 22-62 (35%), FT 6-9 (66%). 3-point 9-27 (33%).
JEREMY MILLSOP may be reached at 218-855-5856 or jeremy.millsop@brainerddispatch.com. Follow on Twitter at www.twitter.com/jeremymillsop .
Goodhue 67, Crosby-Ironton 59
Key: Goodhue outrebounded C-I 40-34 and turned those into 21 second-chance points.
Overall: CI 23-8; G 28-3
Next: Crosby-Ironton vs. Perham/Albany loser in Class 2A State Consolation Semifinals at Gangelhoff Center at Concordia University, St Paul, 8 p.m. Thursday, March 16.