Gymnastics: 1 last time for Deason, Harguth
Two Brainerd Warriors will return to the state gymnastics meet Saturday, Feb. 25.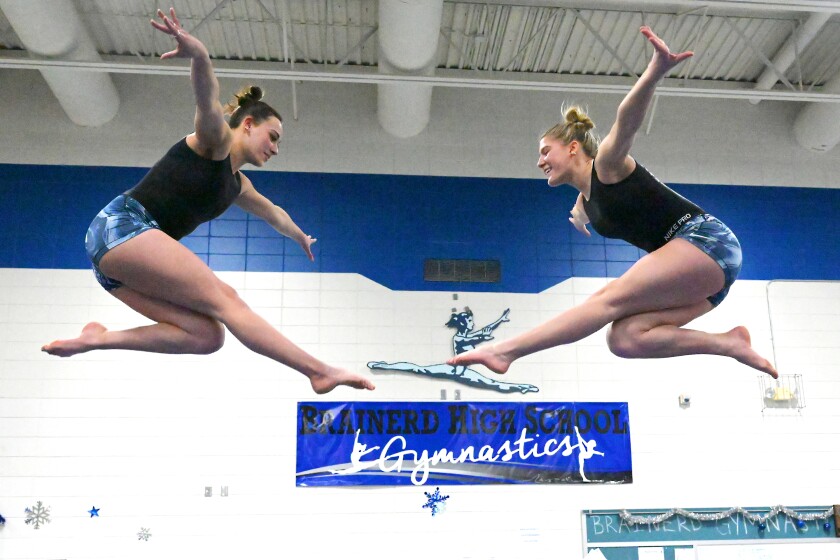 BRAINERD — Josie Harguth and Brenna Deason will have a combined eight state gymnastics tournaments between them following this year's finale.
The two Brainerd Warriors seniors return to the state individual meet Saturday, Feb. 25, at Roy Wilkins Auditorium.
For Harguth, who is a student at Pequot Lakes, this will be the third straight year competing on beam.
"She is fantastic at beam," Warrior head coach Jessica Lofrano-Larson said. "I think it's very uncommon to be able to qualify for beam three years in a row and hit a beam routine three years in a row at sections. She's really good at it because she puts in the work and the extra reps. She probably does more full routines during practice than anybody else. She's also very good at staying level-headed and staying calm when she's on the beam and not letting high-pressure situations get to her."
Harguth qualified for this year's state event by finishing second in the Section 8-2A Finals Saturday, Feb. 18. She scored a 9.3.
Last year, Harguth placed 36th at state with an 8.5.
"It's been a pretty similar routine over the last three years," Lofrano-Larson said. "Josie has a 10.0 start value. We've really figured out what skills work for her to get her that 10.0 start value. We've changed things here and there. Some little changes in jump shape, but that's about it."
Harguth was the Section 8-2A champion as a sophomore and finished second last year in the sections to Deason. This year, however, Harguth was an all-arounder for the Warriors during the regular season and competed the all-around during the section meet.
Focusing on one event will be a benefit to Harguth said Lofrano-Larson.
"It's really different," Lofrano-Larson said. "As an all-arounder, you have to be really good at time management in practice and getting work on all four events done, but also being strategic about the turns you're taking. If you're taking too many turns on one event you might tire yourself out for another event. You have to be strategic with that and Josie has figured that out, but I think this week will be really fun because she can really zero in on that beam routine and take the number of turns she always wanted to take, but couldn't because she has to work on those other events."
Deason used to do all-around for Brainerd, but a hip injury this season limited her to vault and some beam. Luckily, Deason is a five-time state vaulter. She placed 27th last year at state with a 9.3.
"She's a fantastic vaulter," Lofrano-Larson said. "She's really strong and powerful. She's a sprinter. We know that from track and sprinting really helps with vault. She just has a beautiful vault."
Cadence Atwater and the Brainerd Warriors regained the crown as state adapted floor hockey champions.
Pequot Lakes vs Albany in the Class 2A State Quarterfinals Tuesday, March 21
Subscribe and listen to the Dispatch Sports Wrap with Rad & Hop sponsored by Shannon's Auto Body on the Brainerd Dispatch Minute podcast feed at brainerddispatch.com, Apple Podcasts, Spotify or Google Podcasts.
Deason is a state sprinter along with being a state diver. Lofrano-Larson said Deason's sprinting helps her set up her vault, while her diving experience helps with the backend of her routine.
Deason placed third in the section meet Saturday with a 9.325. But she's no stranger to big events.
"She performs well under pressure and really does well in those big meet situations," Lofrano-Larson said. "I expect her to throw a beautiful vault.
"I think it will be a little unique both for Josie and Brenna this year knowing that this will be their last routine. Both are seniors and neither is looking at college gymnastics so there might be some more emotions there. I anticipate Brenna and Josie will compete great, but I think there will be a little more of an emotional aspect of it this year knowing it's their last routine in their gymnastics career.
"I'm really excited to bring them down to the state meet, especially this year with them both being seniors. We'll get to celebrate the end of two really amazing gymnastics careers."
JEREMY MILLSOP may be reached at 218-855-5856 or jeremy.millsop@brainerddispatch.com. Follow on Twitter at www.twitter.com/jeremymillsop.
What: State individual gymnastics meet
Who: Brainerd's Josie Harguth and Brenna Deason
When: 11 a.m. Saturday, Feb. 25
Where: Roy Wilkins Auditorium, St. Paul