Cross-country: This year's team brings back memories for coach
The Brainerd Warriors wll compete in the Class 3A State Cross-country meet Saturday, Nov. 5, at St Olaf College in Northfield.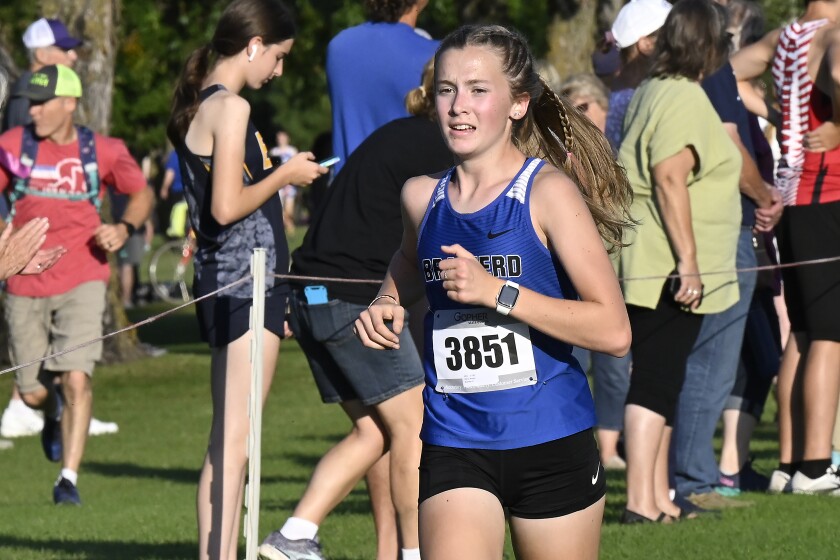 We are part of The Trust Project.
BRAINERD — Entering the Class 3A State Meet, the Brainerd Warriors girls are ranked ninth.
By about 10 a.m. Saturday, Nov. 5, the Warriors hope to show the state what they should be ranked. According to Brainerd head coach Dave Herath, it's a lot better than ninth.
"It's the weird part about cross-country," Herath said. "It's different than track where you look at times from a track meet and you have a good idea on where you're going to land. With cross-country, the courses vary so much. Based on places where we've been at and teams that we've beaten and then those teams beating other teams and us being ranked ninth in the state I'd say that is probably a little bit low and we're hoping it's a lot low.
"I'd say we're a top-five team. We could run really well and be fifth and we could run really well and be second. We're not going to catch Wayzata. They're one of the top teams in the nation. We're probably solidly behind Minnetonka, but everyone else is fair game and we've raced against almost everybody else. We have an idea on where we stand."
Brainerd defeated Section 4 champion, Woodbury, in the Roy Griak Invite Sept. 23. Brainerd won the Maroon Division. Wayzata won the Gold Division.
Section 1 champion Farmington placed 12th in the Gold Division with a 20:42.2 average time per runner and a 103.30.7 combined time for their five scorers. Section 7 champion Forest Lake placed 13th in the Gold Division with a 20:37.1 average time per runner and a 103.05.1 combined time of the five scorers. Section 3 champion Eastview placed 16th and Section 5 champion Mounds View was 33rd in the Gold Division.
Brainerd's average runner time when they won the Maroon Division was 20:27.3 and a combined time of 102.16.5.
Four boys basketball teams were in action Monday, Jan. 30.
Brainerd hosts Alpine Ski Invite at Mount Ski Gull Jan. 30
Three area girls basketball teams were in action Monday, Jan. 30.
In the St. Michael-Albertville Invite Oct. 3, Brainerd placed third behind Section 6 champion Wayzata and Section 2 champion Minnetonka. The Warriors defeated STMA and Forest Lake.
"Every meet has built on itself," Herath said. "I was not expecting us to win that Maroon division at the Griak meet. I thought we would be in the top three or four just looking at the teams, but that's such a big deal and it definitely helped us out. The STMA meet, we have never been there before, but that was a power-packed field and we were solidly in third place, but we ran with Minnetonka and that helped our confidence a lot.
"But probably the meet that helped our girls is the conference meet. We're in a really tough conference with Alexandria, Rocori and Willmar all in the top 6 in Class 2A. To win that meet by 20 points was a real help for us."
Brainerd's successful regular season pushed them to the Section 8-3A championship. Hannah Drietz led the field with her first-place time of 18:47.0. Katelyn Kennedy finished fourth in 19:22.1 followed by Brooke Wenz in fifth with a 19:22.9. Madi Miller posted a 19:36.4 to finish seventh and Bridget Collins rounded out the scoring with her 19thh-place 20:46.1. Annelise Baird was right behind in 21st place as was Julia Rademacher in 22nd.
Emily Bastian and Danika Ramler will be Brainerd's two alternate runners.
Those numbers have Herath harkening back to Brainerd's 2003 season in which the Warriors finished a program-best second in the Class 2A meet.
"Absolutely the same feeling as back then," Herath said. "We were ranked 10th and we ran very well at sections. I think we had five of the top 12 girls at sections. It's a very similar feel and we told the girls that.
"There are some differences. That group the whole pack was very tight, whereas in this group we have four and then three. We'll need a fifth runner to be right there. This group we have four top runners where in the other team they were all just really good, but nobody won the section individual title."
Back in 2003, the Griak was just a one-race event and Brainerd finished seventh overall, but second among Minnesota schools.
The state meet, however, is at St. Olaf and only Miller has raced there before. She posted a 19:53 as an individual runner.
"It's a little more challenging when you haven't been there before, that's for sure," Herath said. "Madi was there last year and she's giving us a lot of insight. We take a lot of video and pictures so the girls can see it and we compare it to other things and other courses we've been on. The goal for this team is they may not be able to visualize that particular course, but they've all been in situations where they are crowded as they are running and the state meet tends to start out pretty fast. The Griak does the same thing.
"While they may not know the course, they know the feels and they can relate to that. That's what we really are working on. What to expect for the first mile, the second mile and then the last mile."
The goal for the top four runners is for each to finish better than 19 minutes.
"In July, I told them I thought we had four girls who could be under 19 minutes at the end of the year and I still believe that," Herath said. "The state meet course, while it's challenging, has good flow to it. Under 19 gives you a good chance at being all-state, which is the top 25 and just as important it's just a really low team score. You take out the individuals who aren't there with a team and you finish 25th, you're probably 14th or 15th in the team standings. They would all love to be all-state, but more importantly to them is they want to do well as a team."
Side Note: Herath's daughter and former Brainerd Warrior runner Lydia Hatton will also be coaching there with Class 1A's No. 1 ranked boys team Heritage Christian Academy.
JEREMY MILLSOP may be reached at 218-855-5856 or jeremy.millsop@brainerddispatch.com. Follow on Twitter at www.twitter.com/jeremymillsop.
St. Olaf College, Northfield
Class 3A Girls 9:30 a.m.
Class 3A Boys 10:30 a.m.
Warriors roster: Hannah Drietz, Katelyn Kennedy, Brooke Wenz, Madi Miller, Bridget Collins, Annelise Baird, Julia Rademacher