High School Football: Warriors face off with Rogers in hopes of 5th-straight win
Brainerd travels to Rogers Friday, Oct. 7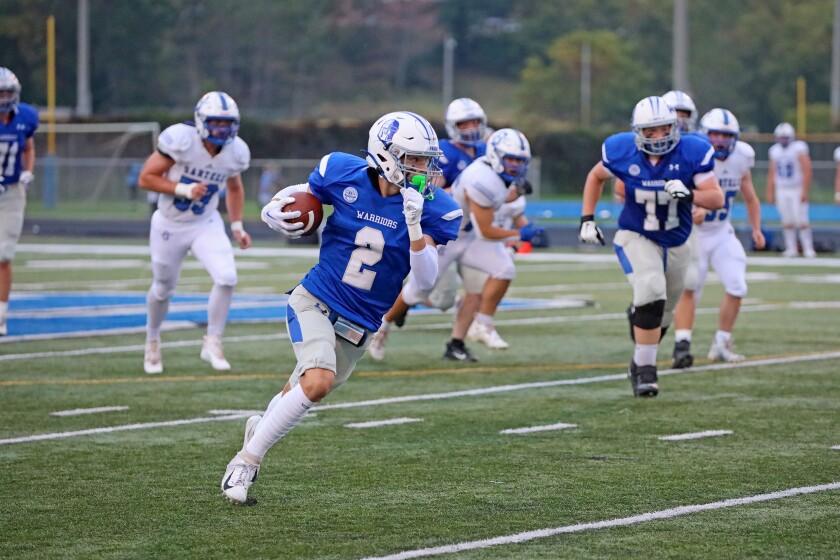 We are part of The Trust Project.
Brainerd looks to make it five wins in a row Friday, Oct. 7, on the road at Rogers.
Last week's win was anything but easy for the Warriors as they needed 15 points in the last 9:30 to escape Alexandria with a 15-14 win.
The win allowed the Warriors to finish undefeated in the North Central Red Subdistrict.
"The big thing for us was to sit back and reflect on the areas of improvement we need for this week," Warriors head coach Jason Freed said. "We've been spending a lot of time in practice looking at things from our blocking schemes to fundamentals and from tackling and trying to fix the things we need to make better."
Rogers is coming off a 35-14 loss to Elk River last week. The Royals enter the game against the Warriors 2-3 with wins against Bemidji and Coon Rapids.
"We've had a disjointed start to the season," Rogers head coach Marc Franz said. "We've had a slew of injuries early on, but we feel like we are coming out of it. We've had a few positions, most obviously the quarterback position, where we don't have great continuity."
Last season, the two programs faced each other for the first time with the Royals topping Brainerd 31-7 at Adamson Field.
The big key for the Warriors last week was the defense making plays without junior linebacker Dylan Gross.
With the linebacker sidelined, Liam Luther picked up the slack with a sack and four tackles for loss. In the fourth quarter, it was Derron Tumpkin with a sack to force Alexandria out of field goal range.
The Warriors also picked off the Cardinals twice including John Hagen's third interception of the season to ice the game. As a team, the Warriors have 11 interceptions.
"It's a hats off to our coaching staff on the defensive side for training our kids," Freed said. "We talk a lot about how you are one rep away and it really came to be last week and for the kids to step up and make those plays show that we aren't just training 11 guys, but 22 guys to be ready."
The defense will be tested against Roger's stout offensive line and running back Anthony Powell.
"They are a big and physical team," Freed said. "I don't think we have seen a team as big physically since Andover. They are going to present some things with how they pound the ball and they are going to test us there."
Adam Salwei, Collin Schultz, Miles Bolduc, Caden Satter and Wyatt Bell comprise the O-line for the Royals.
"When Anthony has played, our offensive line has done a phenomenal job of creating lanes for him," Franz said. "We try to have the same approach. We want to be balanced run and pass. We haven't had a consistent passing game and we hope to get that back."
Freed said the key to playing a strong offensive line is keeping gap control on defense.
"What you can't allow them to do is to establish their line of scrimmage and push you back," he said. "The biggest thing is we have to hold our ground and keep gap integrity. With their schemes they are going to try and attack us, so we have to be sound at level one and level two."
Offensively, it was the passing game that led the comeback against Alexandria. Brainerd mustered a season-low three rushing yards, but quarterback Marcello Getty found five different receivers for 149 yards and two touchdowns.
Freed, like always, wants to have a balanced attack offensively and hopes the running game can get going.
"We can't be a one-dimensionall team," Freed said. "For us last week, we realized Alexandria was playing really well up front and we struggled in the run game. That we need to fix, but there's a reason we work on our passing game every day in practice and we work on things with our receivers and quarterbacks because you never know when you are going to need them. We honestly probably should've went to the passing game a little earlier last week, but it's something we will continue to use and develop more and more."
Defensively for Rogers, Franz said Andrew Partyka and Tommy Dickerson have been the most consistent for him. Another key defensive player for the Royals includes Wyatt Gilmore.
"We have quite a few younger guys still figuring things out on defense," Franz said.
Freed said the Rogers' defense is very aggressive.
"They are big up front and they fly around," Freed said. "I think offensively we need to be on assignment which is something we struggled with last week."
Franz said he likes playing the outstate teams like Brainerd.
"I just think the outstate schools don't get the respect they deserve for the quality of football," Franz said. "I might be biased because I grew up in International Falls, so I just enjoy the way the communities in the outstate schools support their teams."
CONRAD ENGSTROM may be reached at 218-855-5861 or conrad.engstrom@brainerddispatch.com. Follow on Twitter at www.twitter.com/the_rad34.
RB: 20-Damien Bentho, 18-Sean Holbrook
WR: 2-Eli Hoelz, 10-Nolan Johnson, 14-Reece Isle, 23-Dillon MacLaughlin, 81-Jake Merseth
OL: 50-Rhyen Buckmaster, 53-Josh Albright, 56-Mitchell Wind, 56-Waylon Larson, 71-Caleb Lange, 75-Kolbie Bernu
DL: 5-Eli Wiskow, 71-Caleb Lange, 56-Mitchell Wind
LB: 42-Dylan Gross, 41-Ryan Kennedy, 33-Derron Tumpkin
CB: 11-Brandon Stark, 12-Landon Severson, 17-John Hagen, 23-Dillon MacLaughlin
S: 9-Kade Stengrim, 18-Sean Holbrook
Returners: 2-Eli Hoelz, 20-Damien Bentho
RB: 88-Andrew Partyka, 25-Anthony Powell
WR: 19-Tanner Carlson, 4-Gavin Geirman, 41-Wyatt Gilmore
OL: 76-Adam Salwei, 52-Collin Schultz, 74-Miles Bolduc, 72-Caden Satter, 59-Wyatt Bell
DL: 12-Carter Retterrath, 73-Tommy Dickerson, 53-Frankie Montano
LB: 41-Wyatt Gilmore, 38-Ryder Vylasek, 31-Palmer Willegalle, 33-Andrew Devries
DB: 6-Noah Gordan, 16-Aiden Herman, 13-Tyler Dube, 20-Calvin Kolleh
Aug. 26, at Coon Rapids — Lost 21-20
Sept. 2, hosts Andover — Lost 52-14
Sept. 9, at Moorhead — Won 27-10
Sept. 16, hosts Sartell — Won 34-14
Sept. 23, hosts Bemidji — Won 19-7
Sept. 30, at Alexandria — Won 15-14
Oct. 19, hosts Buffalo 7 p.m.
Oct. 28: Round One of Class 6A Playoffs
Nov. 4: Round Two of Class 6A Playoffs
Nov. 10-12: Class 6A Quarterfinals
Nov. 17-19: Class 6A Semifinals
North Central Red Subdistrict
Brainerd 4-2 (4-0), Sartell 2-4 (1-1), Moorhead 3-2 (2-2), Alexandria 1-4 (1-2), Bemidji 0-5 (0-3)
Brainerd 15, Alexandria 14
Sauk Rapids 37, Bemidji 23
Brainerd at Rogers
When: 7 p.m.
Where: at Rogers High School
Series: Rogers lead 1-0
Last result: Rogers won 31-7 in 2021
Twitter: @the_rad34
Radio: KLIZ-AM (1380)
Web Stream: www.kliz.com.