Warriors Athlete of Week: Warriors' Kennedy enjoying a break out season
Katelyn Kennedy has enjoyed a breakout cross-country season and her accomplishments keep getting better.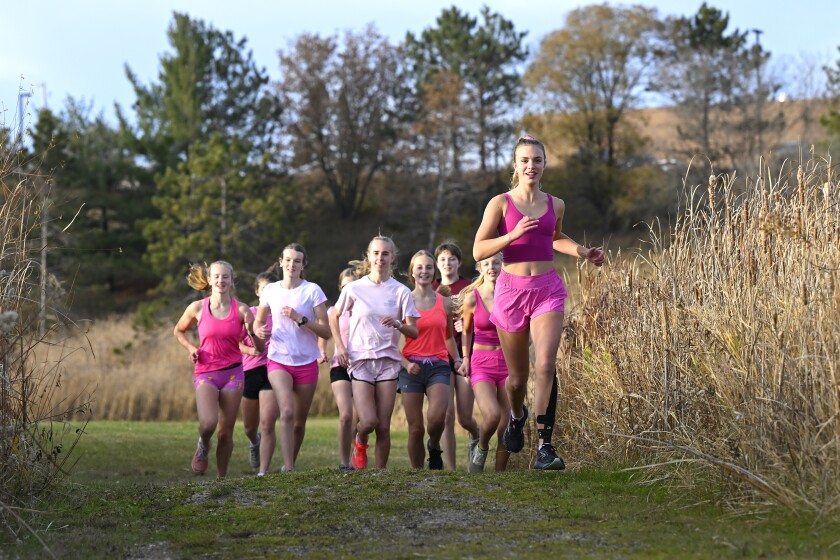 We are part of The Trust Project.
BRAINERD — Katelyn Kennedy saved her best for almost last.
In the Section 8-3A championship Thursday, Oct. 27, in Bemidji, Kennedy ran a personal-best 19:22 to place fourth and help the Brainerd Warriors girls' cross-country team to the section title and a spot in the Class 3A State Meet.
Kennedy bettered her previous best time by 11 seconds and improved by 30 seconds from the last time Brainerd ran at the Bemidji course earlier in the season. She was the second Warrior runner to cross the finish line behind fellow senior Hannah Drietz who won the section title.
"My plan was to break 19 minutes, which didn't happen, but I did not expect to get fourth overall," Kennedy said. "Honestly, it was an unbelievable feeling when I finished. I didn't even believe it. I probably still don't believe it right now. I didn't think we were going to get first.
"I would say probably the last mile was when I felt really good. I kind of knew once I crossed the finish line that we beat St. Michael-Albertville."
There was a concern prior to the race whether Kennedy would even run because of a shin splint issue she's dealt with since after the St. Michael-Albertville race Oct. 3.
"She's been nursing a sore shin that comes and goes so we've been cross-training and doing other things with her," Warrior head coach Dave Herath said. "Everything was going well and before the section meet she came over kind of limping. She said her shin really hurt. Brady (Rutman) and Owen (Trout) both worked with her and it was kind of the first sign that the nerves were getting to her. They talked her through it with her and you would never know she was worried about her shin when the gun went off because she looked great the whole way. She said the pain went away early on and she just had a fantastic race."
For state, I think I might have a chance of being All-State or top 25.
Katelyn Kenedy
During the Central Lakes Conference meet Oct. 18, in Fergus Falls, Kennedy was the fourth Warrior runner, but still earned all-conference honors with her eighth-place time of 19:39.3.
Kennedy recorded her previous best time in the St. Michael-Albertville meet where she ran a 16th-place 19:33.9 to help the Warriors to third. In that meet, she was Brainerd's No. 3 runner.
"That was not the best race for me," Kennedy said. "It was still a PR for me, but only because it was a flat course. I started getting back shin splints from my old shoes. I dropped out of the race before conference and then I raced conference, but it was after being in the pool all week and right before sections me and my coaches were going back-and-forth on whether I was even going to run or not."
Kennedy was Brainerd's top runner in the season-opening Run for the Melon, Sept. 2, at Forestview Middle School. She ran a 20:07.8 to finish behind two top three Class 2A runners.
"Katelyn in my mind, she's the one who keeps things loose," Herath said. "She's the type of kid who enjoys every moment of the journey. That's a big thing. They set their goals very high and having a Katelyn there who can sense when we need a little lighter atmosphere every once in a while and she has that. That's maybe more her role. They are all hard workers, but Katelyn isn't afraid to push the intensity in practice when it needs to be pushed. She really likes to get after it when race time comes."
Boys basketball teams were in action Saturday, Feb. 4
Enjoy free access to klick! photo galleries on BrainerdDispatch.com
Three area boys hockey teams hit the ice Saturday, Feb. 4.
What made Kennedy's season-opening success most surprising was she didn't even compete on Brainerd's section team last year. But she figured out why and it's made a huge difference.
"She's always been a hard-working kid, but ever since ninth grade she's kind of faded as the year went along," Herath said. "We figured out in visiting with her folks that maybe there was an issue and it ended up she was dealing with some low iron stuff. The more she trained, the lower her iron got and the worse her times were. They took her to their family doctor and she's been on top of her iron levels so that without a doubt is a major factor.
"Just being with the program for as long as she has helped. She's a much stronger runner. She's been doing a pretty substantial strength program for the last year and a half. You just mature as a kid and as a senior, she's just really blossomed and come into her own."
Kennedy said she was "Super iron deficient," but also added she didn't have confidence.
"We started checking my iron right before the Nordic ski season and then right before track I got a couple of infusions and I got a couple of infusions over the summer while I was running a lot," Kennedy said. "I could never really notice the symptoms. It got really bad at the end of the cross-country season, but I had no idea because I could never feel the symptoms. Once I started racing in track it was like 'Oh, this actually feels nice.' It didn't actually hurt as much as it did during cross-country."
With better health, Kennedy is even surprising herself. She said her main goal this season was to break 22 minutes.
"I didn't think I was going to run in college, but now the two schools I'm interested in going to both of the coaches want me to run there," Kennedy said. "That's kind of cool. For state, I think I might have a chance of being All-State or top 25. That would be super cool, but honestly, my main goal is to break 19 minutes."
JEREMY MILLSOP may be reached at 855-5856 or jeremy.millsop@brainerddispatch.com. Follow on Twitter at www.twitter.com/jeremymillsop.
Sport: Girls' cross-country
Year: Senior
Age: 18
Height: 5-foot-9
Career highlight: Finishing third at Run for the Melon
Other sports: Nordic skiing and track and field
Grade-point average: 3.7
Favorite class: Math
Favorite food: Quesadillas
Favorite movie: "Ferris Bueller's Day Off"
Favorite TV show: "Keeping Up With the Kardashians"
Favorite musician: Rihanna
Favorite restaurant: Raising Cane's
Future plans: Get a bachelor's degree in health education and run in college
Favorite athlete: Lindsay Cunningham, runner at Winona State
Parents: Erin and Bruce Kennedy
Other notable performances
Hannah Diertz, girls' cross-country, won the Section 8-3A Individual title with an 18:47.
Brooke Wenz, girls' cross-country, placed fifth in the Section 8-3A meet with a 19:22.9.
Madi Miller, girls' cross-country, placed seventh in the Section 8-3A meet with a 19:36.4.
Mitch Wind, football, finished with eight tackles, one sack and an interception returned for a touchdown against Stillwater.
Izzy Olson, swimming and diving, won the Central Lakes Conference championship in diving with a 424.9.
Mya Tautges, swimming and diving, earned All-Central Lakes Conference honors in the 50- and 100-yard freestyles and helped the 200-yard medley relay to an all-conference second-place finish.
Avery Duerr, swimming and diving, earned all-Central Lakes Conference honors in the 100 breaststroke and helped the 200 medley relay to an all-conference second-place finish.
Kaia Iske, swimming and diving, earned All-Central Lakes Conference honors in the 100-yard butterfly.