Warriors Athlete of Week: Warriors' Knapp not resting on past success
Brainerd's Eli Knapp is coming off recent success as he heads into the Section 8 meet.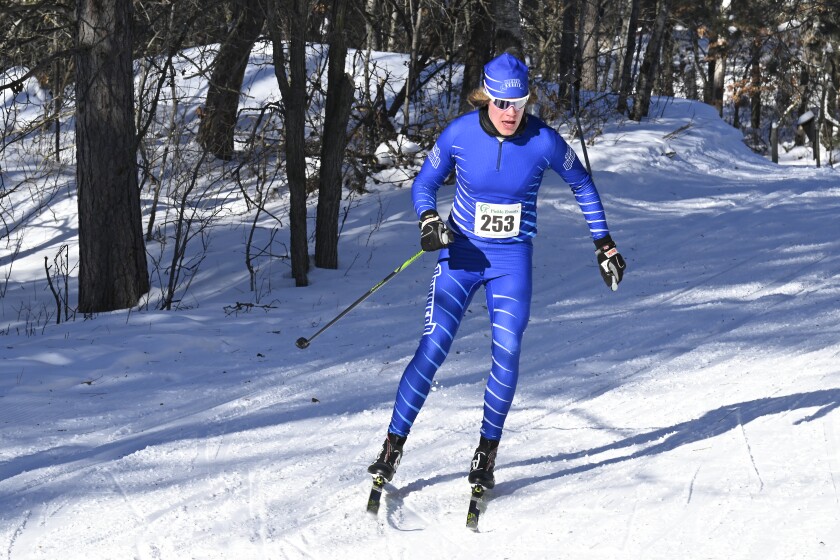 BRAINERD -- Two a way.
That's how close Brainerd Warriors Eli Knapp was to earning All-State honors at last year's State Nordic Ski Meet at Giants Ridge.
Knapp placed 27th in the pursuit with an overall time of 31:16.7 time. He skied a 16:04.13 classic time and followed it with a 15:12.59 skate in his second career state meet appearance.
One year older, Knapp is poised to take the leap into the All-State stratosphere and he's shown those skills in Brainerd's last two events.
Knapp skied to a second-place finish at the Little Falls Invite Jan. 26 at Camp Ripley. He posted a pursuit time of 28:47.5 to clip long-time rival Ethan Yorek of Little Falls.
"It definitely helps to know that those (section frontrunners) are reachable," Knapp said. "They're not too far ahead of me where I can't reach them. It helps you with the mindset that you can catch them and you do have a shot at being up there with them at the section race. Ethan is a great skier. I've been chasing him all year so it was good to finally be able to catch him."
At last year's state meet, Yorek finished one spot ahead of Knapp.
"It's been a great rivalry between Little Falls and Brainerd," Warriors co-head coach Mary Claire Ryan said. "Those two were talking at the line before the meet, but once it starts it's all business."
Knapp's runner-up finish at Camp Ripley coupled with the first-place showing of Brainerd's sprint relay team of Lance Hastings and younger brother Taite Knapp led the Warriors to the team victory.
It's nice as a coach when you have to visit with your athlete about dialing things back so you don't wear yourself out.
Chris Hanson
In Brainerd's final meet before the Section 8 Championship, Knapp and the Warriors dominated the Central Lakes Conference Championship Feb. 2 at Northland Arboretum.
Knapp won the classic title with a 15:21.09. Brainerd won the conference title by 16 points over runner-up Fergus Falls.
"For the conference meet we oftentimes let the kids do the strategy," Ryan said. "He's just a good skier and he's a very good classic skier and that's what he chose to do. I think it's certainly a strength for him.
"Here's another case where his whole family is skiers. His older sister was on our section teams and was a captain when she was skiing with us in high school. Now, Eli and Taite are on varsity and Lee Knapp is a seventh grader and he was a junior high champ. A lot of time it's just time on skies that develop these techniques and skills. He started young and in order to be a great Nordic skier you have to be good at classic and Eli is."
Having the conference meet at home was a luxury for Knapp. He said the familiarity of the course and a positive mindset were keys to his win.
"I chose classic to change things up," Knapp said. "We do a lot of freestyle throughout the year so I decided to do classic. I think classic is probably my stronger between the two. I just decided to go with classic to change things up a little bit.
"It was a good race for me. I wanted it quite a bit. It's the conference and not as big as sections, but it's a fairly big meet, I would say. It's fun to win things and just be a part of the team that wins and I had a good time skiing. I'd say I wanted it."
The Warriors finished first through fourth in the boys' classic race. Behind Knapp was Gabe Hallgren in second, Lance Hastings in third and Eli Hallgren in fourth.
"We just did some voting for our season honors among the team and I'm going to give you a quote from one of his teammates," Warriors co-head coach Chris Hanson said. "I don't know who this is from but this is what they said, 'Eli Knapp has been a wonderful leader on this team for a couple of years now. He has handled his skiing success with humility and is a clear leader.'
"That's not from his coach, that's from his teammates."
Brainerd finished second in the Bemidji Invite Jan. 21. Knapp was second behind Little Falls' Connor Grant. Knapp posted a 26:59.42 pursuit time. At the site of the section meet -- Maplelag Resort -- Knapp skied a second-place pursuit time of 26:22.8 to lead the Warrior boys to first at the Detroit Lakes Invite Jan. 12.
Subscribe and listen to the Dispatch Sports Wrap with Rad & Hop sponsored by Shannon's Auto Body on the Brainerd Dispatch Minute podcast feed at brainerddispatch.com, Apple Podcasts, Spotify or Google Podcasts.
Johnny Pecarich selected to All-Star Game
In one of the country's largest high school Nordic ski events, Knapp skied to a fifth-place classic time of 15:32.4 to lead the Warrior boys to fifth place in the Mesabi Invite Jan. 7 at Giants Ridge.
"It's huge for the team because he sets a high standard and everybody follows that," Hanson said. "He's been skiing against the section leaders all year long, but that consistency on any given day, I mean, he's just right there at the top always. His consistency has been crucial for us as far as setting a standard and an expectation for the rest of the guys to follow."
That consistency is leading up to one thing and that's a state meet appearance and a good showing in the final event of the season.
Knapp is confident he'll be prepared. He knows the course. He's comfortable with the ever-changing format that is state Nordic skiing. He said that familiarity will help him help his younger teammates. Only his brother has also been to state so should the Warriors advance he'll be another coach.
"It's cool to have a role just helping these guys with their nerves and letting them know what it's like," Knapp said. "Then you can focus more on skiing and less on worrying about the format and what's going on."
Knapp may not be worried about an All-State finish, but Hanson believes that goal has been a driving force for the junior all season long.
"We have not talked about last year's state meet explicitly, but it's got to be a factor," Hanson said. "It's showing in his practices. He's out early and off the ski trails late. He's leading his teammates in a ski line. It's nice as a coach when you have to visit with your athlete about dialing things back so you don't wear yourself out. That's been the case with him and there is no question he wants to return to state, not just individually, but as a team, and post some results that are all about improvement."
JEREMY MILLSOP may be reached at 855-5856 or jeremy.millsop@brainerddispatch.com. Follow on Twitter at www.twitter.com/jeremymillsop.
Sport: Boys' Nordic ski
Year: Junior
Age: 17
Height: 6-foot-1
Career highlight: Competing in last year's state meet.
Other sports: Lacrosse and cross-country running
Grade-point average: 3.8
Favorite class: Math
Favorite food: Chili
Favorite movie: "Fast and Furious"
Favorite TV show: "Outer Banks"
Favorite musician: Eminem
Favorite restaurant: Buffalo Wild Wings
Future plans: Study mechanical engineering
Favorite athlete: Johannes Klaebo
Parents: Mike and Tiffanie Knapp
Other notable performances
Mya Tautges, girls' basketball, scored 21 points against Rocori.
Gavin Hoelzel, boys' Alpine skiing, won the Warrior Invite at Mound Ski Gull with a 44.14.
Calia Chaney, girls' Alpine skiing, won the Warrior Invite at Mount Ski Gull in 46.87.
Eli Hoelz, boys basketball, scored 24 points against Willmar.
Molly Pohlkamp, girls' hockey, finished with two goals and an assist against Sartell/Sauk Rapids.
Ellie Brown, girls' Nordic skiing, won the classic individual title with an 18:43.77 in the Central Lakes Conference Championship.
Annelise Baird, girls' Nordic skiing, won the freestyle individual title with a 16:07.68 in the Central Lakes Conference Championship.
Mason Kuepers, boys' swimming and diving, won two individual events and was on two winning relays against Sauk Rapids.
Peyton LeMieur, girls' hockey, finished with two goals and an assist against Willmar, a goal against Moorhead and a goal and assist against Sartell/Sauk Rapids.
Brady Johnson, boys' hockey, scored two goals against Detroit Lakes.
Johnny Pecarich, boys' basketball, reached 1,000 career points with 28 points against St. Cloud Apollo.
Kade Strengrim, boys' hockey, scored two goals, including the game-winner against Rock Ridge.