Warriors Athlete of Week: Warriors' Tautges churning out wins
Mya Tuatges won four individual events and was on three winning relays last week.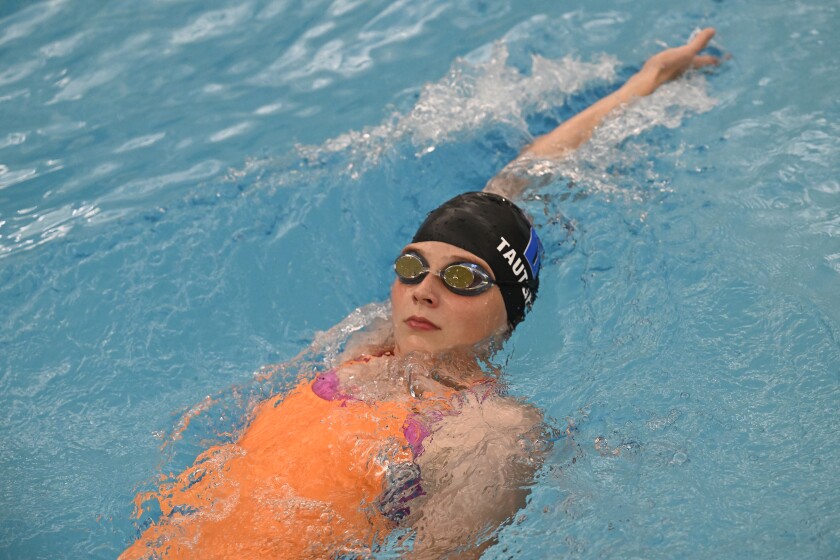 BRAINERD -- There are many adjectives to describe Mya Tautges.
The best one might be humble.
"And she's a really good athlete," Warriors head girls swimming and diving coach Dan Anderson added. "She's got really good technique. She's also got really good leverage. She catches water really, really well."
In the grand opening of the Brainerd High School Aquatic Center Tuesday, Sept. 13, Tautges and the Warriors displayed their skills by defeating Willmar 117-63. Tautges opened with a first-place 200-yard freestyle time of 2:05.21. She added a win in the 100 freestyle with a time of 56.67. She also helped the 400 free relay of Autumn Larson, Scarlett Anderson and Brynn Haapajoki to a first-place time of 4:05.18.
"I'm not a long-distance type person because I can't swim consistently," Tautges. "I feel like I'm meant to do sprints. I have long arms so it helps a lot. Being tall is also a really big advantage. People don't often think about it, but it really helps.
"Right now, I'm working on my underwater and my flip turns. I'm also working on moving my arms faster, too."
The pressure was ramped up Thursday, Sept. 15, when the Warriors hosted St. Cloud Tech. The previously undefeated Tigers gave Brainerd its toughest competition, but the home squad prevailed 108-78.
Tautges collected wins in the 50 free with a 25.4 and the 100 free in 59.29. She captured four first-place finishes as she helped the 200 medley of Avery Duerr, Mariah Alderson and Isabelle Ploof to a time of 1:54.87. Tautges teamed with Gabby Chalupsky, Ploof and Scarlett Anderson to win the 200 free relay in 1:45.5
"I love that medley relay," Tautges said. "Everyone on it is really awesome. They're so fun. They're so good and I'm so excited to be swimming backstroke on it. Everyone on that really is so tall, too. It's kind of funny.
"The 200 free relay, we're definitely really strong in that right now. We can only get better in it."
Tautges concluded her week with a second-place showing in the 50-yard freestyle at the West Fargo Invite Saturday, Sept. 17. She posted a 25.18 to go with her fourth-place time of 55.94 in the 100 freestyle.
"That was exciting because I dropped some time and I didn't think I was going to," Tautges. "I swam against a really good swimmer and that was a lot of fun."
She helped the 200 medley relay to a third-place time of 1:58.42 and the 200 freestyle relay to a second-place time of 1:45.31. Those finishes propelled the Warriors to a second-place team finish in the 14-team meet.
"She could be a really good 200 freestyler, too, but sprinting is just one of those things where you can either do it or you can't," Anderson said. "She's a natural at it. Seems like every time we put her in it she gets faster and faster. Again, she catches just really good water. She doesn't have a real fast turnover and if we can speed up her turnover, she's really going to be dangerous."
Anderson said Tautges' starts are "amazing." What she'll be working on to get faster are her turns and her turnover.
"Part of that comes with training," Anderson said. "We really haven't done a lot of sprinting in practice yet. It's just not that part of our training cycle. As we get into that she'll get a better turnover and the turns are something we have to spend a little time every day working on to make them better."
In the Warriors season opener, Tautges swam a first-place 200 individual medley and a first-place 100 free. She was on the winning 200 medley and 200 free relays as Brainerd defeated Bemidji 149-37.
A week later against St. Cloud Apollo, Tautges won the 50 free and was second in the 100 butterfly to teammate Kaia Iske. And again she was on the winning 200 and 400 free relays.
"It's very impressive," Anderson said about Tuatges' ability to swim any event. "Step one of being a good athlete is you better be coachable. She's figured that out a long time ago. She does a great job and she does everything I ask of her. And she knows if I put her in an off event, it's not permanent. It's just us trying to figure something out or trying to find something that's good for the team.
"She knows in the end, she's going to be in her best events so she's willing to try anything."
Last season, Tautges earned All-Central Lakes Conference honors in the 100 free and was honorable mention in the 50 free. During the Section 8-2A meet last year, she swam a fourth-place 25.0 in the 50. She was fifth in the 100 free.
"I just want to continue to get lower times in my 50 and my 100," Tautges said. "I wanted to get better at all my events. I also just want this team to be together and have a lot of fun.
"I'm pretty happy with my times right now."
Whether it's fun or hard work, Tautges seems to have the recipe for success.
"I think any athlete when they're confident in what they are doing, whether it's softball or basketball, they know they're going to do what they're supposed to do," Anderson said. "That's got to feel pretty good. Mya is confident things are going to go her way and she's a good enough athlete to make them go her way.
"Two things you really like in an athlete, and obviously it's really fun to coach a talented athlete, but also somebody who is coachable and I think more important is coaching somebody who is humble. She's all of those things. She's just a very humble kid."
JEREMY MILLSOP may be reached at 855-5856 or jeremy.millsop@brainerddispatch.com. Follow on Twitter at www.twitter.com/jeremymillsop.
Mya Tautges
Sport: Girls swimming and diving
Position: 50- and 100-yard freestyles and relays
Year: Sophomore
Age: 15
Height: 5-foot-11
Career highlight: Competing in the 2022 state softball tournament
Other sports: Basketball, softball
Grade-point average: 3.8
Favorite class: Yearbook
Favorite food: Orange chicken
Favorite movie: "Top Gun: Maverick"
Favorite website or app: VSCO, photo and video editing app
Favorite restaurant: El Tequila Mexican Restaurant
Future plans: Play college softball
Favorite athlete: Michael Phelps
Parents: Robert and Peggy Tautges
Other notable performances
Izzy Olson, girls swimming and diving, won the diving competition against Willmar and St. Cloud Tech and captured the diving title at the West Fargo Invite.
Nick Holmberg, boys soccer, scored one goal against St. Michael-Albertville, scored the game-winning against Willmar and added another goal in a win against Elk River.
Hannah Drietz, girls cross-country, ran to a second-place finish at the Section 8-3A Preview.
Marcello Getty, football, threw for 152 yards and two touchdowns on 14-17 passing against Sartell.
Ryan Kennedy, football, finished with seven tackles, one pass breakup and one interception returned for a touchdown against Sartell.
Mitch Wind, football, finished with five tackles and three sacks against Sartell.
The Brainerd Warriors traveled to top-seeded St. Michael-Albertville for the Section 8-4A winner's bracket final.
Area softball results from Tuesday, May 31